Winterize Your Home Before the Cold!
So you've found your winter attire in the bottom of the closest and have stocked up on your favourite hot drink and soup. You are ready for below zero temperatures, but what about your home? Is it ready to endure the cold months ahead?
The cold is coming and in a city like Calgary, there's no telling how soon or how late it will arrive. As a home owner it's important that you take precautionary steps in order to prevent any damage and add comfort to your home during the winter. Here are 18 ways you can winterize your Calgary home before it's too late.
Insulate yourself, check your leaks
1 - Inspect your home's interior and exterior for any cracks or leaks. Seal them with the appropriate method. If you aren't sure what is best, ask your local home department store for advice.

2 - If your home really gets cold, try adding a layer of insulation to your attic. If you are putting more insulation on top of a pre-existing layer, make sure you don't use the type of insulation that acts as a vapor barrier. It can cause moisture to build and create mold.

3 - Consider covering your windows with plastic insulation. Insulator kits are found at home department stores such as RONA and the Home Depot and are very affordable means to keep the heat from escaping through your windows. If you want to go an extra step, tape up some bubble wrap as well.
Maintain your furnace
4 - Put your furnace through its paces before the cold comes by turning it on. There will be a strange, short-lasting smell. Simply aerate the area to remove the smell. If the odour persists, turn it off and call a furnace professional to come and look at it.

5 - It is never a bad idea to have your furnace inspected and cleaned on an annual basis as is. Doing so makes sure your furnace is in tip top shape for many winters to come.

6 - Stock up on furnace filters and check them regularly during the winter. A dirty filter will impede the efficiency of your furnace as air flow is restricted, and in dire cases could cause a fire.
Clear out your eaves trough
7 - Get on top of the roof carefully with your tool of choice, usually a spatula, broom or even your hand with a set of gloves works great, and remove all the clutter from your eaves trough. If possible, grab the hose and spray out any remaining residue.

8 - Having blockage in your rain gutters can cause water and snow to accumulate and freeze, causing ice dams that can create unwanted water flow (which will freeze and expand) into the base structure of your house, window sills and even into your home itself.

9 - Make sure your gutter spouts are pointed well away from your home and efficiently carry any of Mother Nature's precipitate well away from your homes base.
Prevent Freezes
10 - Make sure you know where the main water switch is in case of an emergency. If you plan on leaving your home for an extended period of time, turn the heat up a little bit. Also, remember to check with your insurance company as being away for an extended period of time and not having any one check on your home can cause your insurance to be void in the case of frozen pipes or other winter weather related issues.

11 - Drain any air conditioners you might have. If there is a water shut off valve for your AC, close it. Also drain all of your pipes leading to any outdoor water faucets as well as any garden hoses you might have.

12 - If your home has any exposed outdoor plumbing, wrapping the pipes in insulation will go a long way in preventing any freezing from occurring.
Equipment
13 - Replace any worn snow shovels and brooms. Consider getting an ice scraper to remove that nasty ice on the driveway / walkways we've all had a nasty experience with at one point or another in our lives. Also, don't skimp on buying the best snow shovel. The ergonomic design and best materials used by the more expensive shovels are worth the extra expense and will save your back and make the job easier.

14 - Stock up on some bags of sand and ice melt to spread on your walkways.

15 - Consider installing a car starter if you don't have one already, especially if you park outside.
Be prepared for the worst
16 - You never know when an outdoor storm could cause issues with electricity in your community. Buy some lighters and/or matches and some candles, so you can see in the dark in case of a power shortage. Consider buying an electrical back-up system to protect yourself from losing an important unsaved word doc as well as any other sensitive electronics you might have.

17 - Have the phone numbers of your utility providers handy; inside the front page of the phone book perhaps or on the whiteboard beside the phone

18 - Stock up on non-perishable food and water, as well as a first-aid kit and blankets and have an evacuation plan in case of an emergency situation.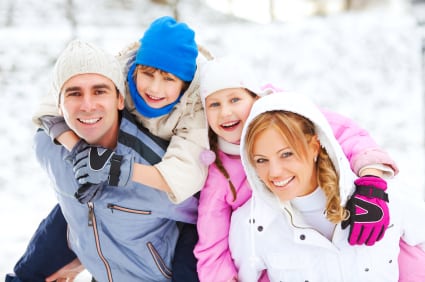 Stay warm folks and enjoy your winter! Thanks for stopping in at Best Calgary Homes!
Find more home maintenance tips below..

Maintaining Your Calgary Home – Initial Maintenance