Abruzzo Calgary Restaurant Review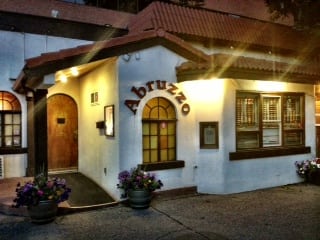 Fine Italian dining has never been better than at Abruzzo. As soon as I saw this unique little Italian restaurant in downtown Calgary's west end, I knew it would be good.
After all, what kind of house turned restaurant still remains after years and years of new developments in the area? An exquisite restaurant with delicious food, that's what, and it so happens to cook one of my most favourite cuisines of all!
Atmosphere and Service
I'm giving Abruzzo full marks for atmosphere, service and food. It's just that good!
Stepping into this nifty little restaurant on the corner of 4th Avenue and 8th Street SW, you feel like you've literally been transported to Italy with its small windows and rustic decorations. Even the color scheme screams Italian, trust me I've been there before (Italy)!
It wasn't so bad discovering Abruzzo as I had plans to go to Italy in a few months but had to cancel them, I felt like I got to experience a little bit of what it would be like to relax and eat my face off in the beautiful country. Sweet!
As far as service goes, our server was full Italian and pointed each of us into the right direction for ordering. I wish I wrote down the special of the day she told us so I could share it with you. It went something like an 8 ounce bass fish covered in a special tomato sauce, steamed vegetables and tomato penne pasta. A must try!
It's funny though, I haven't even gotten to the food yet but forgive me as I just can't help myself because of how delicious that fish was! It's a must try (we went on a Friday).
Our Orders
Calamari alla Genovese – $16.00 – Squid rings prepared in a lovely tomato and white wine sauce with some spice – good sized plate of calamari rings smothered in a delightful sauce, a great way to begin a night of exquisite Italian dining.
Cannelloni – $18.00 – Cannelloni stuffed with a mix of veal and veggies, baked in a béchamel and tomato sauce and melted cheese – Cannelloni lovers, you HAVE TO try this take on the dish! Need I say more? I will though, because even if you aren't a Cannelloni fan, I bet if you try this dish you'll like it!
Veal Pizzaiola – $29.00 – Veal in a light tomato sauce with garlic, capers and spice – Abruzzo has its veal dishes down with this Veal Pizzaiola. Gristle free, melt in your mouth veal is one of my favourites!
Fish Special (Friday) mentioned above!
The next time you're looking for an exquisite Italian dining experience, head on down to Abruzzo on the corner of 4th Avenue and 8th Street SW. They even have a nice patio for enjoying the spring and summer heat!
Abruzzo
Address – 402 8th Street SW, Calgary, AB

Phone Number – 403-237-5660