New Housing Starts, a Sign of Economic Turn-Around
Home starts is one of several residential housing statistics that are a good indicator of consumer confidence. If people have doubts about the current and future status of the economy or simply don't have the financial means, a decision to buy a new house simply won't be on the radar.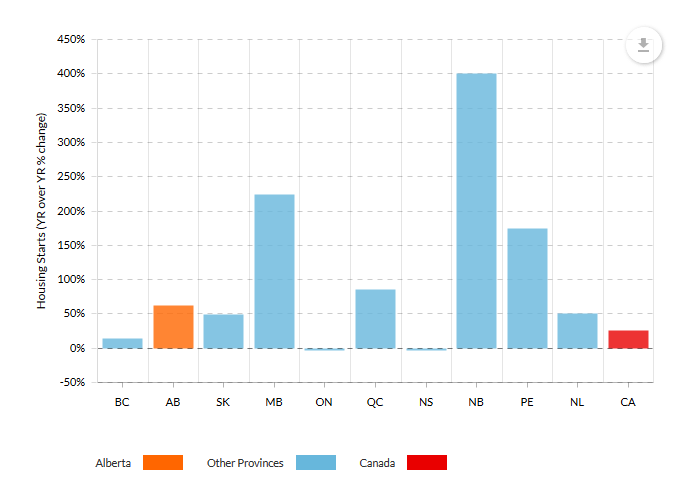 According to ATB Financials' The Owl, latest figures for new housing starts in March of 2017 indicate that Albertans may be finally shaking off the economic chills.  Last month, home builders in the province started construction of nearly 35,000 new single-detached and multi-family properties. This was the highest level of new housing starts seen in Alberta over the past year-and-a-half.
This statistic is reported at an annualized rate, which represents the amount of new properties that would be built within a years' time if the same pace of construction were to continue for 12-month time frame. It has also been adjusted for seasonality, which levels out predictable changes in new housing starts resulting from changes in the weather.
More Housing Starts Statistics 
From the end of 2014 to mid-2016, new housing starts dropped consistently

New housing starts are now showing stability with slight growth over the past six months

Other economic indicators including employment and retail sales show the economy may be on the up

New home starts in municipalities over 10,000 population in February 2017 were up 23% year-over-year

New single-family home starts in these municipalities also up 29% in February 2017 year-over-year

Actual single-family starts in February of 2017 were 901, up from 697 the year before

1,906 homes sold in March, a 20% increase year-over-year but 8% lower compared to long-term averages

2,520 housing starts in Alberta in March 2017, a 61.8% increase year-over-year

5,548 year-to-date (Jan – March) housing starts in Alberta, a 20.7% gain year-over-year

25% drop in inventory levels in March 2017 compared to March of 2016

*Sourced from ATB Financial, Statistics Canada, Calgary Real Estate Board
Calgary Market Updates
See our list of month-to-month Calgary Real Estate Market Updates for long-term statistics, trends and analysis sourced from the Calgary Real Estate Board (CREB®)
Questions about Calgary Real Estate?

As a highly experienced REMAX real estate agent and REALTOR® in Calgary, I promise only the best service and advice possible while discerning all your real estate needs.
Call me anytime at 403-370-4180 or message me below for a quick response. I am looking forward to helping you accomplish your real estate plans!