The Best Calgary Patios
Calgary Summers are awesome! Some would say too short but hey, you got to take the good with the less good and take advantage of these best Calgary patios!
I know the sunshine is much appreciated, so after enjoying the sun, rafting, biking  or hanging out somewhere in one of our numerous parks or doing some other Calgary Outdoor Activitiy , what better thing to do than relax on a patio!
Here are some of the best Patios in Calgary! Be sure to check them out this summer!
My Favorite Patios in Calgary:

Cilantro
Cilantro has a great little dining court, definitely one of my favorites for lunch. Amazing food and you would never know you are just off 17th avenue. Great ambiance and a beautiful setting.
The Living Room
The living room has a great outdoor patio with comfortable seats. The dining there is exquisite. I can honestly say that everything I have eaten there was amazing, definitely no complaints. The patio is great for evening dining as well; they have two fire places and heat lamp throughout. Located off 17th avenue it is in the heart of several bars and lounges but the patio remains private and comfortable.
VIN Room
VIN Room has a rooftop patio with an iconic huge umbrella. The wine selection is amazing, food is good and my favorite is the dessert.
Joey Tomatoes Eau Claire Market
Joey tomatoes' is premium casual dining. The patio is great, located in Eau Claire Market, in the heart of downtown and seconds from the river. A good spot to go to before or after a walk, roller blade or bike along the river.

Honorable Mention: Joey Tomatoes Chinook
Rouge in Inglewood
The setting is pristine. Rouge is located in an older home converted into a restaurant and it sits on a huge lot. The restaurant has its own garden in the back yard which they use for their own ingredients as much as possible. On a nice day sit in the patio area in the back yard, looking out onto the garden. Possibly my favourite setting in Calgary.

Teatro
The name speaks for itself and the setting is very nice, but what makes it even better is the patio facing Olympic Plaza. Food is as good as it gets. Amazing heritage building and reputation.
Metropolitan Grill on 17th Avenue
"The Met" is a perfect place to take a break from boutique shopping on 17th Avenue. I suggest the candied salmon salad.
Murietta's
on Stephen Avenue Premium seating for Stephen Avenue People watching at lunch and good food to go along with it.

Honourable Mention: Anything on Stephen Avenue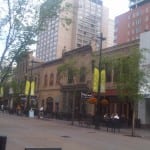 For coffee
Starbucks on 4th Street in Mission Great rooftop patio to read a book, go online or just sip a drink and chat.
River Cafe
Need I even describe this patio? Let's just say it's an Oasis within the City. Located on the river, you can't drive to this restaurant; you have to park at Eau Claire ($2.00 Evening and Weekend parking in the underground parkade for Eau Claire Market) and walk to the restaurant. Brunch and Lunch on the patio is delicious and the setting is majestic.
Bonterra Trattoria
A little taste of Tuscany in Calgary. Downtown location with a private, beautiful Tuscan style patio courtyard. Definitely a must on the patio list.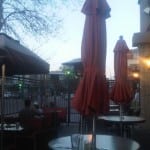 Alloy
If you don't already know about Alloy then don't wait for the patio to check it out. Make your next reservation there this week. If you do know about Alloy, next time you are looking for a different place to catch some sun in a gorgeous setting with great food, make Alloy your choice for a Calgary patio. A cool southern California vibe and nice decor with good ambiance awaits.
Melrose
Does the term "Red Mile" ring any bells? It should and Melrose is Red Mile home base! Awesome patio on 17th Avenue in the heart of the action! One of Calgary's most popular patio's an a great place to people watch!

The newest addition to the patio scene: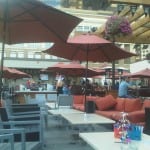 West
"Canada's biggest rooftop patio" according to the owners. Anything that is Canada's biggest or best has got 2 thumbs up in my books. Awesome patio, unique in Calgary, great atmosphere, food and a good party.

Other Honourable Mentions: Earls Tin Palace and BoxWood
The Best Patios in Calgary
What are your favourite patio's in Calgary? Leave a comment and let us know!
Until next time, be sure to check out some more of the best Calgary patios today!