C B Drive Inn Calgary Food Review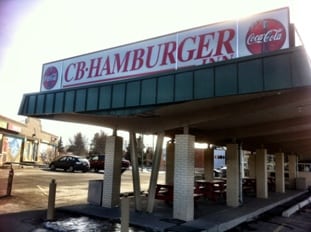 When I am in need of a delicious burger without time to dine in, I immediately think of two places, C B Drive Inn and Peters. This time around C B Drive Inn happened to be closer.
Atmosphere and Service
Apart from the delicious burgers and shakes, C B Drive Inn staff is always enthusiastic and even comical at times. Their positive attitude and appreciation for you as a customer is always expressed, which is something I appreciate myself.
C B Drive Inn literally has no indoor eating space, so depending on the weather and personal preference you can sit outside at one of their picnic tables, or in your car. In the summer time, as one of Calgary's Best Burger Joints, C B Drive Inn is always busy and tables are packed, while in the winter most choose to eat indoors.
Our Orders
Mushroom burger – $4.75 – lettuce, mayo, tomato, prepared with fresh mushrooms, Swiss cheese – whenever I see mushrooms my taste buds begin to water, and C B Drive Inn's mushroom burger did the trick. Some mushroom burgers from other places are way too sloppy, but this one is made nicely without too much of a mess when eating it. Instead of worrying about staining your clothes you can focus on indulging in each and every bite. A good choice if you like mushroom Swiss burgers!
Regular fries – $2.50 – good fries, but not the best I've had. Maybe it's the overbearing amount of salt they use, but hey if you like salty fries then go for it!
Coconut strawberry milkshake – large – $4.35 – this milkshake was everything I expected and then some, definitely a must try combo!
Yummy Milkshakes
C B Drive Inn has a long list of milkshake flavours to choose from including…
banana, black forest, blueberry, butter pecan, butterscotch, cherry, chocolate, coconut, coffee, crème de menthe, licorice, lime, orange, Oreo, pina colada, pineapple, raspberry, rootbeer, rum, strawberry and vanilla.
If you love a good shake, burger and fries, then you should try C B Drive Inn, if you haven't already. It's easy to find!
C B Drive Inn
Address – 789 Northmount Drive NW, Calgary, AB
Phone Number – 403-282-8188