Cactus Club Macleod Trail Calgary Restaurant Review
Cactus Club on Macleod Trail has been an increasingly popular dining destination for myself as the years go by.
Their blend of Western and Asian cuisine makes their menu as interesting as it is delicious and puts this south Calgary restaurant near the top of my list when my stomach is growling and it needs food fast!
Atmosphere and Service
Stepping into the Cactus Club on Macleod I usually request a dining table unless its super busy and a booth in the lounge is immediately available. Dining tables are very spacious and quite comfortable in comparison to their lounge booths, especially if you are with a group of more than two.
Several times I have been to Cactus Club Macleod and every time I have had exceptional service. This time around it was no different, my server was very kind and knowledgeable of the dishes I asked her about.
Our Orders
Rocket Salad – $17 – arugula, vine tomatoes, parmesan crusted chicken breast and lemon caper dressing – this wasn't my favourite green salad, but it did the trick. Sliced onions and croutons did well in adding a bit of texture to the otherwise bland salad.
Hot Chicken Wings – $11 – your typical chicken wings smothered in hot sauce. They were cooked to perfection without being too dry which was great. Served with your choice of blue cheese or parmesan dip.
Mini Burgers – $12.50 – certified Angus beef, alder smoked bacon, cheddar topped with red pepper relish – these are absolutely delicious, one of the best tasting appetizers I have ever had. Seriously!
Prawn Spaghetti – $20.50 – spaghetti covered in slow roasted tomato sauce, fresh herbs, chilies and crostini – comes with a fair amount of prawns that are de-veined and cooked to perfection with a nice lemon tangy taste. The spaghetti itself has just the right balance between sauce and olive oil. Loved this dish!
Looking for some western cuisine with a unique Asian twist? Head on over to Cactus Club on Macleod Trail and try their delicious menu! Also be sure to check out these Best Calgary Restaurants for more great places to eat in Calgary!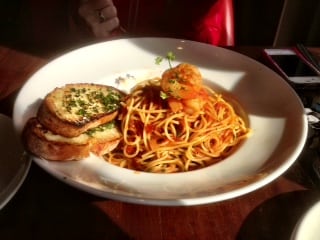 Cactus Club Macleod Trail
Address – 7010 Macleod Trail South, Calgary, AB
Phone Number – 403-255-1088