Interiors at FIRST condos in Calgary's East Village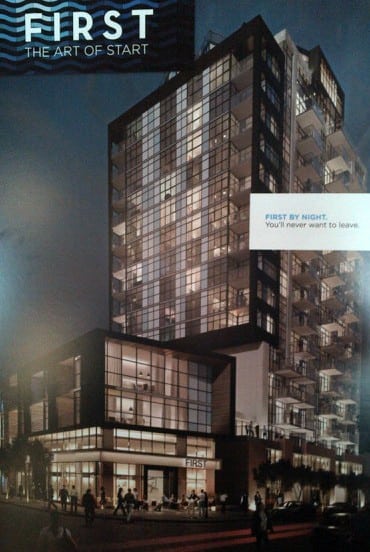 FRAM+Slokker have a commitment to their customers to bring them the best and largest variety of condo floor plans at FIRST, their new Calgary East Village riverside condo development.
It doesn't matter what kind of condo you are looking for; whether it be a one or two bedroom and den, or simply just a one or two bedroom, the choices available to you allow you to choose the floor plan that will suit your personality and lifestyle to the fullest.
Personally, I can't decide which feature of FIRST is my absolute favorite. The flexibility of FRAM+Slokker to meet the needs of a wide variety of people is definitely one of the top.
Still, I cannot forget imagining the beautiful night sky on the rooftop lounge while enjoying the relaxing sound of the moving river, just a short distance away.
Needless to say, I am very impressed by FIRST in East Village. Here are a few attributes of FIRST condos that are a part of my standing impression:
Bedroom
Laminate flooring disguised as wood grain continues from the living room and hallway into the sleeping quarters.
Inside the bedroom, fully sized mirrored sliding closet doors make sure you have a full view from head to toe when deciding on what to wear,
modern, sliding birch veneer door that adds to the overall appeal of the interior design nicely.
Bathroom
Bathrooms are clean-cut and contemporary with lots of storage space, a must in any modern day condo.
A spacious glass walled shower with a rain-shower shower head, custom vanity with two decent sized drawers and bottom shelf make you feel like you are at the spa!
Sustainability is also a characteristic of FIRST, where water saving toilets is standard.
Kitchen
FRAM+Slokker are keen on giving their customers choice. There are three different concepts used in the kitchens at FIRST.
Modern cabinetry with a textured, shiny finish creates compatibility with your chosen decor and isn't limited to one color template.
A custom-built island seats four with bonus storage cabinets matches the wood grain laminate and cabinets nicely and if necessary can be pushed to the side for more space, an awesome feature for when hosting your family and friends!
Stainless steel, Energy-Star appliances come standard at FIRST, and are a nice finishing touch.
Living Area
More choice! You decide on one whichever color template suites you; Jazz, Rock or Blues.
Each palette uses natural textures and colours which emulate FIRST's wonderful downtown riverside location in Calgary.
Each template is flexible enough to allow for easy mix and matching with your preferred interior decor.
Let's not forget about the over-sized windows with a special glazing to let natural light in, trap heat and prevent noise invasion from the outside environment.
Find out more about this new and exciting urban development at East Village Calgary Summary today!
Questions about FIRST in East Village?

If you have any questions about FIRST, please call me today at 403.370.4180, or message below.