Calgary Food Review – Shawarma Station Kensington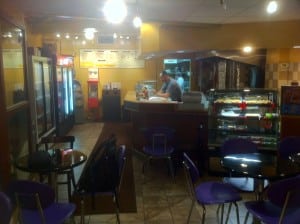 I was extremely hungry when I first came to Shawarma Station. I noticed the large poster of Sam, the owner, on the wall with a few paragraphs about his commitment to his customers, the food and so on. Sam was very polite. He must have thanked me about 5 times before I left the store, which is fine.
I had a beef shawarma which was fantastic. The beef had a tangy flavour that was delightful. The ingredients are mixed in the shawarma nicely. One thing I didn't like was the $3.50 and $5.00 increase in price for an increase in size to large and extra large. Expensive! That's okay though because the size differences are considerably larger.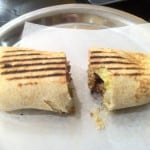 The second time I came there I asked for a spicy style chicken shawarma. I must say that this one was one of the best spicy donair style foods I have had. It was delicious! Upon further investigation, Sam told me that it was all because of the special home made hot sauce that is a trademark of his food. Even talking about it gets my mouth watering. Sam even came out to ask the 3 or 4 tables who were eating how we were doing and what not. He even gave one guy some more beef! I've never seen an owner more passionate about his shawarma shop than this guy. If you are in Kensington, try the spicy chicken shawarma. It was delicious.
Shawarma Station

106 – 227 10th Street NW
Phone Number – 403.283.0606
Thanks for stopping by to read another food review. If you are interested in reading more food reviews, I have lots on Facebook at Calgaryism. Calgaryism not only has food and restaurant reviews, but also lots of photos, activity suggestions and local events such as Calgary's Best Late Night Food.