Wok Box – Aspen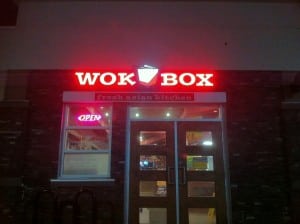 I ordered a Dan Dan from Wok Box approximately 10 minutes before I arrived there. This particular Wok Box had a restaurant style atmosphere with tables available for sitting in to eat. Modern finishing's with good lighting and color template made it possible for me to actually contemplate sitting in to eat.
I was expecting to have a stir fry that tasted like the ones packaged in Safeway, but this wasn't the case. The Dan Dan was spicy with a bit of sweetness that allowed for enjoyment of different tastes of ingredients without the spice drowning them out. The meal was mixed into the box well so I didn't finish all the vegetables and sauce before I hit the rice or noodles at the bottom. The sizing of vegetables was surprisingly large, almost too big to fit into my mouth, but hey I am not complaining. They definitely could make their boxes a bit wider and not as deep. With that damned short fork I was getting my hands covered in sticky hot sauce, a minor inconvenience that can into a big problem if you are trying to eat and drive.
Overall the Wok Box in Aspen surprised me. The Dan Dan tasted like a home-made stir-fry and all the ingredients used didn't have any of that specific processed taste characteristic of packaged foods. I would recommend stopping in at Aspen Landing's Wok Box if you are in the area for some enjoyable vegetable, noodle combos!
Read more about Calgary activities, places, phots, events and more under blog at the top!
Wok Box Food
Address, Phone Number -
288 Aspen Glen Landing
Ph# – 403.453.1965
Hours -
Monday to Thursday – 11:00 AM to 9:00 PM
Friday and Saturday– 11:00 AM to 10:00 PM
Sunday – 12:00 AM to 8:00 PM