YYC Taste the Trucks – Delicious!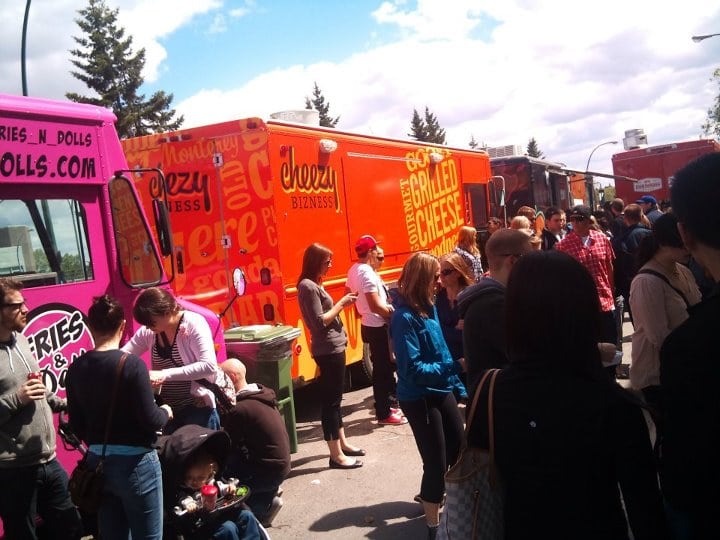 On August 11th of 2011, I descended to Stephen Avenue for "YYC Taste the Trucks" for the unveiling of the food truck pilot project alongside hundreds of other Calgarians curious about this new food trend. At that time, there were only seven food trucks. Fast forward one year later; there is now a total of 23 food trucks roaming the streets of Calgary.
The success of the food trucks is contributed to the support of city council and Mayor Nenshi. Calgary is the envy of other major cities with strict regulations causing their failure to launch.
The food truck fairy tale began with Charcut offering their gourmet burgers in a back alley behind their restaurant. This attracted hundreds of people lining up to savour their $5 burger and that is essentially how Alley Burger, the very first of the food trucks, was born.
There are a few apps you can download to follow your favourite food trucks. They also have a huge social media presence on Facebook and Twitter.
This food truck phenomenon has definitely put Calgary on the map of food trends. Eat St., the infamous Food Network TV show following food trucks in North America, has featured our great city.
To celebrate this happy ending, the second annual "YYC Taste the Trucks" will be happening on their one year anniversary in the East Village. Once again, Eat St. will be there with their film crew so be prepared in case they ask you to speak in front of the camera!
Congratulations to the success of the food trucks and cheers to many more years of feeding Calgarians!
Calgary Food Trucks
Anglio e Olio – Homemade pasta and sauces & fresh homemade sausage on a bun
Alley Burger – burger, fries and poutine
Blam! Wich – sandwiches
BrBraizen – using local and seasonal ingredients to create dishes from Asia, classic American, Middle Eastern and South America
Cheezy Bizness – not your childhood grilled cheese sandwiches
Curbside Grill – burgers and sausages
Fiasco Gelato - Italian gelato ice cream at its finest
Holy Crepe – savoury and sweet crepes
Jelly Modern Doughnuts – brought to you by the owners of Canada's first gourmet doughnut shop
JoJo's BBQ – authentic southern BBQ bites
Los Compadres – gourmet and authentic tacos
Noodle Bus – the first Asian food truck serving Vietnamese cuisine
Pimentos Mobile Pizzeria – New York style pizza, donairs and Panini's
Purple Pastry Chef – gourmet cupcakes and treats
Red Wagon Diner – Montreal smoked meat sandwiches, wraps and hash
The Happy Truck – Indonesian food
Vasili's – Greek food
YYC Shawarma – offering a variety of shawarmas
Leave a comment below and let us know about your favourite food trucks!

Location: 618 Confluence Way SE, Calgary, AB T2G 0G1
Date: Friday, August 10, 2012
Time: 11:00 am to 7:00 pm