Calgary Landmarks: Historical Buildings, New Skyscrapers & More
When people from around the world view YYC in videos, photos and other types of media, what kind of buildings and monuments do they see? Calgary Landmarks… of course.
They are the face of our city, the places that coincide with many peoples thoughts when they think of Calgary whether that be locals or foreigners who have seen YYC on a postcard from across the world.
Places like the Calgary Tower, the Glenmore Reservoir and the Bow Tower are but a few of the landmarks in Calgary that might come to mind.
Want to know more about the purpose, history and activities and events at our local landmarks? Check out these great articles below! Leave us a comment below and let us know what your favourite landmark is in Calgary.
Dragon City Mall
Dragon City Mall is a cultural gem found in the heart of downtown Calgary, close to the Chinese Cultural Centre and Eau Claire Market.

Here you will find a wide range of oriental food and drink, as well as everything from comic book shops to fine custom jewellers.

Don't miss out on a visit to Dragon City Mall if you get the chance! See what some of our favourite shops are at Dragon City Mall – Calgary Landmarks today.
Lougheed House
The Lougheed House is one of the oldest historical buildings still standing in Calgary with an incredible story to tell.

The Lougheed Family was an integral part of society in YYC`s early days and often had large social gatherings at their sandstone mansion.

Now well over a century since it was built, the Lougheed House stands as a testament to their legacy which lasted for decades. Find out what other activities and events are on at the Lougheed House – Calgary Landmarks today.
Canada Olympic Park (C.O.P)
Located on the Bow River Valley escarpment just off the Trans Canada Highway is Canada Olympic Park and its towering ski jumps.

This Calgary landmark was built for the 1988 Olympic Winter Games and was used for a majority of bobsleigh, luge and ski jumping events.

Today, COP's legacy remains strong through continued use from the general public and professional athletes alike as well as continued development projects. Learn more at Calgary Landmarks – Canada Olympic Park & Ski Jumps.
Calgary Soldiers Memorial
Found along Memorial Drive is one of the most important Calgary landmarks ever built.

Dedicated on the anniversary of one of the most critical battles in Canadian history, the Calgary Soldiers Memorial consists of several stones with more than 3,000 names of fallen war heroes from local regiments.

Learn more about this historical landmark at Calgary Landmarks – Calgary Soldiers Memorial.
Bow Tower
The Bow Tower is one of the newest Calgary landmarks there is.

This spectacular office building has recently been named the top corporate building in the world for 2013 by Emporis, one of the world's leading building and construction database. It is an amazing feat of architecture and technology to say the least!

Find out more about this recently completed skyscraper and check out Calgary Landmarks – The Bow Tower.
Bankers Hall
Look at downtown Calgary from afar and it's possible you will see the two tallest twin towers in Calgary.

Bankers Hall East Tower wears a silver cowboy hat on the top, while its younger sister Bankers Hall West sports a gold one. Yes that's right; the tops of Bankers Hall are symbolic of the cowboy hat on Calgary's flag!

The timeless architecture and design of Bankers Hall will surely make these buildings look brand new even 10 to 20 years down the road! Learn more about the twins at Calgary Landmarks – Bankers Hall.
Eighth Avenue Place
Eighth Avenue Place is another new office development in downtown Calgary with meaningful architecture that stands out from the rest.

Now complete, the top of the two towers silhouette the curves of the Rocky Mountain tops superbly.

Find out about Canada's first LEED Platinum certified tower at Calgary Landmarks – Eighth Avenue Place.
Calgary Tower
The Calgary Tower is one of the most well known landmarks in YYC.

Originally named the Husky Tower, the Calgary Tower was a joint project between Husky Oil and Marathon Realty.

Whether it be a fine dining experience at the rotating Sky 360 restaurant or simply for sightseeing, journeying to the top of the tower is an experience hard to forget!

Learn more about the most iconic towers in our city at Calgary Landmarks – The Calgary Tower today!
Devonian Gardens
Escape from the concrete jungle of downtown Calgary and visit the Devonian Gardens inside The CORE Shopping mall.

Light emanating from our sun flows through the world's longest skylight and gives life to the trees, shrubbery, ponds, and wildlife found in Devonian Gardens!

Learn more about this recently renovated indoor garden at Calgary Landmarks – Devonian Gardens.
Chinese Cultural Centre
Wander inside the Chinese Cultural Centre and you'll discover one of the most colorful and impressive works of art I have seen in YYC.

Besides its strikingly beautiful inner sanctum, the Chinese Cultural Centre is a cornerstone for the Chinese community in Calgary and is a place of learning for all. It is also host to many festivals and events every year!

Experience the Chinese culture for yourself and check out Calgary Landmarks – Chinese Cultural Centre today!
Fairmont Palliser Hotel
The Fairmont Palliser Hotel is one of the oldest Calgary landmarks there is and also one of the premier luxury hotels of choice for many affluent visitors to Calgary.

Way back when, the hotel provided essential over night rooms for travelers on their way to the Banff area.

Learn more about this distinct luxury hotel in downtown at Calgary Landmarks – Fairmont Palliser Hotel.
Peace Bridge
The Peace Bridge and the Bow Tower were recently named as 2 of the top 10 new structures in the world by Architecture Magazine!

The Peace Bridge is hard to miss with its spider web like curved beams and bold red colour.

It has become a popular picture for many photographers and locals alike in our city.

Learn more about this amazing piece of architecture today at Calgary Landmarks – Peace Bridge.
Mount Royal University
Just as important of a landmark as the skyscrapers and historical buildings are our universities.

Mount Royal University is an essential learning institution in our city with over 12,000 students in 2012.

There is also a wide range of activities, events and services found at the university including rock climbing, basketball, swimming, track, squash, fitness and much more.

Learn more about the post-secondary institution at Calgary Landmarks – Mount Royal University.
Glenmore Reservoir
Many Calgarians drive by the Glenmore Reservoir every day without thinking about just many use its vast park areas and paved pathways for a variety of outdoor activities.

Did you know that it is one of our main sources of drinking water, but also has other purposes? Do you know what they are?

Find out at Calgary Landmarks – Glenmore Reservoir today!
McMahon Stadium
One of the most recognizable Calgary landmarks in the entire city is McMahon Stadium.

Located between the Trans-Canada Highway and Crowchild Trail, thousands of people drive by the stadium every day.

It is home to the Calgary Stampeders as well as hosts a variety of other events. Do you know what they are?

Learn more at Calgary Landmarks – McMahon Stadium today!
Calgary Landmarks…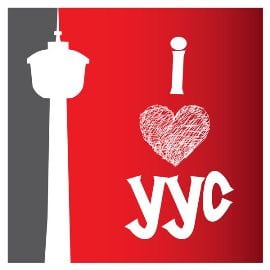 As Calgary continues to grow at a rapid pace, surely there will be many more new landmarks that will join rank with the well-established ones we already have in our city.
Come back soon for more additions to our landmark list! Also, dont miss these fun Calgary activities and do what the locals do!!
Join Us
Looking for more of the best that Calgary has to offer? If so, we invite you to join us at Calgaryism on Facebook, Twitter and Instagram today. It's as easy as giving us a like and staying updated via your social media feed… we hope to see you there!