CREB®: Soft Demand Expected to Further Impact Home Prices
Alberta's economic situation has definitely impacted several aspects of the economy, including the demand for housing.

Price drops have only been slightly lower than expectations, however, as lower amounts of new listings entering the market has prevented inventory levels from growing further.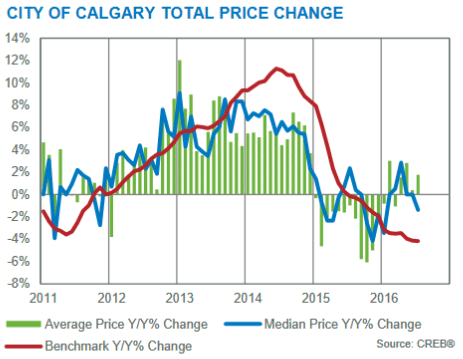 Since the beginning of the year, benchmark prices have been on a downward trend and are expected to continue to do so until years end.
For all sectors the annual benchmark price is estimated to drop by 3.8 percent in 2016, while since the start of the downturn monthly prices have dropped by almost five percent.
The apartment sector bore the brunt of dropping benchmark prices as inventory levels – both new and resale – are extremely high.
The sharpest decline in prices has been seen in neighbourhoods and sectors where the most inventory has built up. Both home buyers and sellers have had to adjust their expectations as not all sectors are behaving in the same manner.
With no end coming soon to the economic lull in Alberta, housing demand is expected to remain relatively low for the second year in a row.
It is estimated that sales activity will shrink by eight percent by the end of 2016, following a 26 percent drop the previous year.
Job Losses
The scope of Alberta's economic condition has been more severe than originally anticipated.

Job losses have been much higher, meaning more people are looking for work both in and outside the city – not necessarily the best environment to support demand for homes.
Three challenges that the housing market faces:
These are expected to challenge Calgary's residential market for the rest of 2016. But regardless of the economy, people still need to buy and sell real estate.
It's important that consumers are fully informed about the dynamics of the sector and neighbourhood they are looking at in order to be able to make the absolute best decisions.
Semi-Annual Market Facts & Statistics Highlights
10,952 total units sold year-to-date, a 10 percent drop compared to 2015

21,191 year-to-date new listings, a two percent drop over 2015 and 11 percent lower than the decade average for Calgary

Resale months of supply is 23 percent higher than what it usually is at during the second quarter

Resale condo sector has been impacted the most by competition from the new home sector, with 66 percent of product under construction being apartment condominiums

3.7 percent year-to-date decline in resale benchmark prices compared to the previous year

30 percent decline in year-to-date new housing starts

Housing starts in 2016 are expected to drop by more than 30 percent compared to 2015

9,100 multi-family units are currently under construction as of July 2016

Further price declines are expected in the apartment sector due to high inventory levels

2,054 detached homes under construction in May, more than 68 percent lower than previous highs

6,911 detached sales year-to-date, a 6.8 percent drop compared to last year

$316,086 row benchmark price year-to-date, a 4.2 percent drop over last year
Calgary Market Updates
See our complete collection of month-to-month Calgary Real Estate Market Updates today for sales, trends and analysis sourced from the Calgary Real Estate Board today.
Questions about Calgary Real Estate?

As a highly experienced REMAX real estate agent in Calgary, I promise to provide only the best level of service and advice the industry has to offer.
Call me anytime at 403-370-4180 or message me below for a prompt response. I am looking forward to helping you accomplish your real estate plans!