Canada – One of the Freest Countries in the World! 
According to the Economist Intelligence Unit's Democracy Index of 2016, Canada is the sixth freest democracy in the world!
Released in late January of 2017, the annual report from the renowned British-based media institution examines the state of democracy in 2 territories and 165 nations across our planet. Also see:
Here are the top 10 most politically free countries of the world in 2016:
#1 – Norway – Score – 9.96

#2 – Iceland – Score – 9.50

#3 – Sweden – Score – 9.39

#4 – New Zealand – Score – 9.26

#5 – Denmark – Score – 9.20

#6 – Canada – Score – 9.15

#7 – Ireland – Score – 9.15

#8 – Switzerland – Score – 9.09

#9 – Finland – Score – 9.03

#10 – Australia – Score – 9.01
How Rankings Work
The Democracy Index uses five main categories to determine the rankings, including:
Electoral process & pluralism

Functioning of government
Then, each of the 165 nations are labeled as having one of four types of government:
Authoritarian regime – nations where political systems of more than one group are virtually non-existent and are often totalitarian dictatorships.

Flawed democracy – nations where government has been elected and civil liberties are honored but other problems, such as freedom of the press, are apparent.

Full democracy – nations where civil liberties and political freedoms are upheld and reinforced by a culture that follows the characteristic principles of a democracy.

Hybrid regime – nations that have irregularities plaguing their electoral system which prevent them from being fair and free.
Canada – A "Full Democracy"
Canada's sixth overall place has it in the "full democracy" type, with an overall score of 9.15 / 10.0.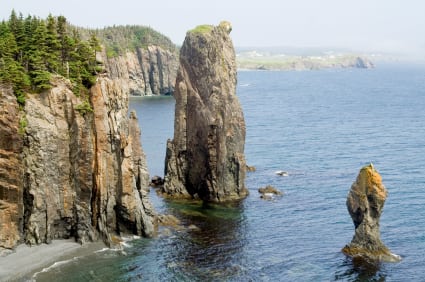 According to the EIU's Democracy Index, this is the highest rating Canada has had in the report to date on the report; the Western country hovered at 9.08 for several years.
Canada ranked high for civil liberties, electoral process and government function while its performance in political participation wasn't so brag-worthy.
Our southern neighbour – the United States – comes in at 21st place with a score of 7.98, putting our most important ally and trade partner in the "flawed democracy" category.
Democracy Index by Continent
The continents vary greatly when it comes to rankings on the EIU's Democracy Index 2016. Western countries fare much better than those found in Eastern Europe, Africa and the Middle East.

North America – Score – 8.56

Western Europe – Score – 8.40

Latin America / Caribbean – Score – 6.33

Asia / Australasia – Score – 5.74

Central and Eastern Europe – Score – 5.43

Sub-Saharan Africa – Score – 4.37

Middle East and North Africa – Score – 3.56

The world's average score comes in at 5.52, indicating that our planet – if evaluated as a whole – would be considered a hybrid regime.
I Love Canada
As a born and raised Canadian, I am proud and grateful to live in one of the freest democracies of the world! Want to learn more about this wonderful country of mine? See this VIDEO: 7 Cool Facts on Canada today.