Chiantis Crowfoot Calgary Restaurant Review
Chiantis Crowfoot is one of the best, most affordable Italian restaurants in the suburban northwest Calgary area. With a cost of only $10 to $15 per main course, and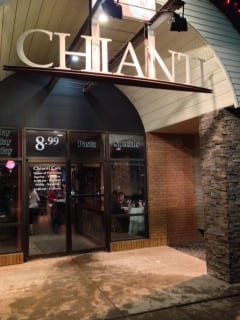 weekly specials for under $10, I must commend Chiantis Crowfoot for not compromising at all on their food quality for the price.
Also, I have been to all three Calgary Chiantis locations, and this one in Crowfoot is the best by far in terms of food quality.
Chiantis Crowfoot
Atmosphere and Service
Chianti's Crowfoot has a great dining atmosphere for parties of all sizes. Indoors has a very warm, comforting color palette; green, maroon and beige, making you feel like your right at home and ready to eat!
During spring and summer there is an awesome patio section covered by a patched awning for all those who love to enjoy the warmth while they eat.
Our server was quite proficient and took care of us very well. No complaints!
Our Orders
Cannelloni – $11.99 – rolled pasta filled with ground veal, veggies and herbs. Baked in tomato sauce and smothered by mozzarella cheese – Chiantis cannelloni is always one of my first choices on their menu. Its tender ground veal, succulent tomato sauce and tasty melted mozzarella cheese make it hard for me to choose anything else when ordering!

Pollo alla Parmigano – $15.50 – breaded chicken breast baked with prosciutto ham, mozzarella and tomato sauce. Comes with spaghetti in a homemade garlic sauce – Each bite of the chicken makes you want more, it's that good! It melts in your mouth and is flawless, with no gristle or chewy meat whatsoever, making it a delectable treat! And it goes very well with the spaghetti and house tomato sauce! If you like chicken and spaghetti then you must try this dish.
If you find yourself near Crowfoot in northwest Calgary, stop in at Chiantis for some delicious and affordable Italian! It's well "worth" it! Also, it gets quite busy on weekend and sometimes on weekday nights, so be prepared to wait 10 to 15 minutes without reservations.
Chiantis Crowfoot
Address – 20 Crowfoot Crescent NW, Calgary, AB
Phone Number – 403-547-5020