Enjoy the District on 11th avenue Downtown!
District is not your ordinary watering hole! (607 11th Avenue SW)
Words to describe: Edgy, Cool, Different, Industrial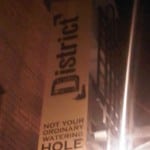 Main demographic: 18-35
Cost per entree: Burgers in the $15 range and entrees in the $25 range
My review: Cool decor with exposed brick walls and a very loft/industrial chic feeling. Good selection of beers I've never heard of before from across Canada. The menu is posted on giant chalk boards on the wall and I have never seen a poutine menu before, especially one this big….
They also brew some of their own beer on site and District is also attached to Amsterdam Rhino if you want to check out a cool Calgary night spot after a late dinner depending on what kind of music and vibe your into.
Overall, District is different and this brand of different is good. Service was attentive and friendly, food was great and drinks were different and enjoyable. 403-233-2433 EnjoyDistrict or District on Twitter