Bigger, Better Deerfoot City Shopping Mall Underway
Deerfoot Mall is now under demolishment in preparation for a new kind of development called "Deerfoot City", one that will give a heightened shopping and social experience to all of its visitors.
Architecture is going to play an integral role in making Deerfoot City come to life with high streets and wide pedestrian ways, as well as building design that departs far from the monotone style of square buildings seen at many strip malls and shopping centres across Calgary.
Looking for more shopping in and around YYC? Check out Calgaryism's Best Shopping Malls today.
Quick Facts
Developed by ShareProperties

Address – 901 64th Avenue NE, Calgary, AB

150 shops, services & restaurants upon completion

1.1 million square feet of retail space when completed

Stunning architecture and landscaping

East access and convenient / abundant parking options

Estimated completion sometime in 2017
Location
Neighbourhoods
The collection of new outdoor shops are going to be separated into "neighbourhoods" that connect to a grand central plaza across 80 acres of land. Two of those neighbourhoods, for example, include:
Style District – featuring homegrown brands

Food Lodge – decked out with food and drink establishments and fireplace

Restaurant Campus – surrounding the central fountain with several restaurants + patios
Grand Plaza
The grand plaza will feature a massive water fountain in the centre surrounded by restaurants and patios creating a real vibrant and eclectic space for people to hang out at and eat if they choose.

Patios are an important part of creating vibrant atmospheres at malls. Just look at some of those you see in places like Las Vegas, for example, where courtyards with patios in between shops make for some of the most energetic spaces in malls across the USA and Canada.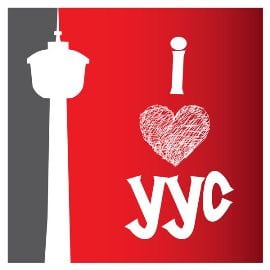 Once finished, a very small portion of the old Deerfoot Mall will still be intact. The current phase of construction is focused on creating a large connecting street to both the north and south sides of the development.
Currently there are over 30 shops and restaurants open to the public with many more to come soon. Look for Deerfoot City to officially have every part open for business sometime in 2017 folks!
I Love Calgary
Looking for more of the best local activities, events and everything else to do with YYC? If so, we invite you to give us a like at Calgaryism on Facebook, Twitter and Instagram and stay updated via our live social media feed – it's that easy. We hope to see you there!