Extreme Bean Calgary Restaurant Review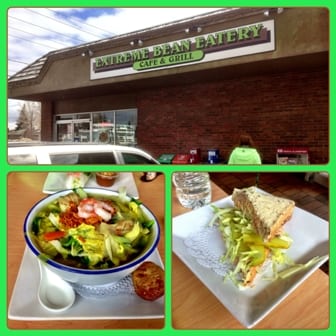 Extreme Bean isn't just your average Calgary coffee shop, that's for sure.
Tucked away on the north embankment of the Bow River in Parkdale is the Extreme Bean Eatery Café and Grill. It is an exceptional inner city café serving some of the best homemade soups, sandwiches and salads around, while offering a large variety of other food and drink like Vietnamese cuisine, protein shakes and more.
Extreme Bean is a popular stop-in destination during the summer heat for Bow River recreationalists. The cafe has grown a strong reputation in the local Calgary community as a great place for social gatherings while enjoying spectacular homemade food, all for a very reasonable price.
Atmosphere and Service
Walking into Extreme Bean Eatery you will notice an L shaped interior with a variety of tables; booths, two person, countertop seats, even couches beside a fire place and a small, but lovely patio section that would be awesome in the sun! Tables are very cozy and private, definitely a great place for meeting with people you know.
Besides a wide selection of seating, staff is very friendly and are more than willing to explain menu items to you, even create custom orders for you that aren't on the menu which is great!
Our Orders
Wor Wonton Soup – $10.95 – made fresh with the houses special broth, pork and ginger wontons, bokchoy, carrots, suechoy, dry onion, shrimp and BBQ pork – If you like hearty soups, Extreme Bean's Wor Wonton is for you! Packed to the max with all kinds of vegetables including ones not traditionally used in western cuisine makes it a tasty, yet adventurous soup.
Half Tuna Sandwich – $7.95 – made on your choice of bread, served with two mini-muffins. I am sure glad I only ordered a half sandwich otherwise I wouldn't have been able to eat the whole thing. This tuna sandwich is loaded with pickles and is very tasty!
Next time you're in Parkdale or along the Bow River and find yourself looking for some affordable eats, consider trying Extreme Bean Eatery Café and Grill. You won't want to pass up an opportunity to try this homemade food. It's that good!
Extreme Bean
Address – 3303 3rd Avenue NW, Calgary, AB
Phone Number – 403-283-6820