Fiore's Calgary Restaurant Review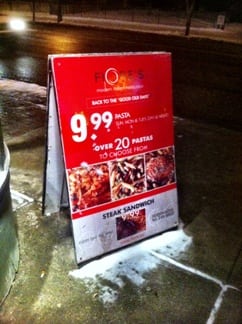 Italian cuisine is one of my favorites and no place in Calgary does Italian like the other. On this particular night I was looking for a different spot to eat at rather than relying on my usual mainstay of favourite restaurants. As we were driving by with our stomach's a 'growling on 17th Avenue SW, Fiore's caught our attention with its red trim and highlighted specials. We were seated immediately.
Atmosphere…
Fiore's interior is well put together. An industrious roof with exposed venting, stone tile walls, sophisticated light fixtures dimmed to a perfect setting, dark wood finishings a and rose red colour trim throughout that matches the outside all combine for a very comfortable eating atmosphere.

When deliberating on what to order, the one thing that caught my attention was the large amount of specials and reasonably priced entree items. You can never go wrong with pasta for under $10!!
Our Orders…
Pollo Limoni – $16.25 – chicken breast in a light lemon butter sauce with a dash of white wine served with vegetables and roasted potatoes – this dish reminded me of a home cooked meal. Vegetables and roasted potatoes were baked to a crisp… or perfectly I should say, while the lemon wine sauce was delicious and added a nice sweet and tangy taste to the veggies. One downside was the small size of the chicken breast… Oh well!
Cannelloni – On special for $10! – pasta stuffed with ground veal and spinach, baked with mozzarella cheese in a tomato sauce – A very delicious cannelloni soft to bite and packed with flavor! If you like cannelloni you will like Fiore's take on the dish!
If you're in for Italian cuisine and find yourself on 17th Avenue SW, stop in at Fiore's for some good deals and good eats!
For some of the best Italian pastas in Calgary, check out our Best Calgary Pastas today!
Fiore's

Address – 638 17th Avenue SW, Calgary, AB
Phone Number – 403-263-6603