Best Breakfast and Brunch in Bragg Creek at Infusion!
Looking for some of the best breakfast and brunch in Bragg Creek? No restaurant does it better than Infusion Contemporary Cuisine.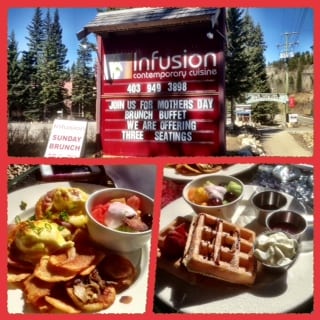 Infused with only the best taste and quality, the food at Infusion is something to get excited about. And if you happen to be gluten-sensitive the restaurant offers gluten-free options so no one has to miss out on this fine dining experience!
Atmosphere and Service
My latest visit was on a Sunday. We sat outside in the warmth of the sun on their humongous patio amid a group of tall pine trees. It's quite an enjoyable setting for brunch, very calm and relaxing to say the least.
Our server was great and was very helpful with explaining the menu. He always made sure we were topped up with water and had everything we needed.
Our Orders
Western omelette – $14 – ham, bell, pepper, mushroom, green onion, a blend of cheddar and Monterey Jack cheese – what a delicious omelette! The outside of this masterpiece was covered with something delicious, I want to say salsa but it's not profiled on the description so I'm assuming it was cheese. Whatever it was, it made this omelette memorable! A must try if you love your omelettes like I do!
Eggs Benedict – $14 – your traditional benedict with the works, English muffin, ham, soft poached egg and hollandaise. Infusion offers a few eggs benny variants I am definitely looking forward to trying the next time I go since this traditional benny was so good. Another must try!
Belgian waffles – $12 – with whipped cream, maple syrup and fresh strawberries – these Belgian waffles are served with a very light whip cream and a raspberry or strawberry sauce that I am willing to bet is made by the cooks at Infusion themselves. The waffle itself is very light and isn't too greasy like some waffles I have had before. Once again, another must try!
Infusion Bragg Creek Calgary
Address – 23 Balsam Avenue – Bragg Creek – Rocky View No 44, AB
Phone Number – 403-949-3898