Joey Chinook Calgary Restaurant Review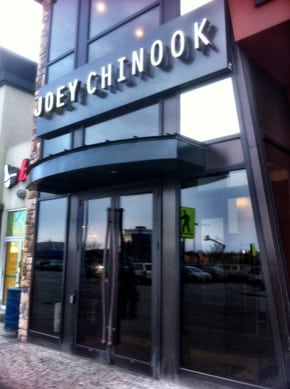 Joey's is always a safe bet when looking for good quality food at a reasonable price, and with multiple restaurant locations in Calgary, there's always one nearby when your hunger sets in! This particular night I was at Chinook Centre and decided Joey Chinook would do the trick.
Atmosphere
Joey Chinook has an amazing dining area and lounge, so whether you're on a romantic date or there to enjoy the game with some friends, the atmosphere is always enjoyable.
I prefer the lounge. It is one large open space with the bar as the focal point. Above the bar are HDTV's placed so every table can easily view them and seating is very comfortable; I could definitely spend two or three hours lounging here with my friends over a coming Flames game in February.
On top of a great atmosphere, the servers are extremely efficient and I have never had a complaint about any of them.
Another huge bonus is that Joey's offers a gluten free menu for those who are gluten-sensitive.
Our Orders
Blazing Wings – $12 - hot wings covered in Joey's house hot sauce served with creamy blue cheese dip – If you are a hot wings fan, ask for extra sauce like I did. Joey's house hot sauce is absolutely delightful! It definitely makes these hot wings a treat any chicken wings lover won't want to miss!
Pesto Shrimp Flatbread – $14.75 – whole milk mozzarella, sundried tomatoes, chipotle aioli and fresh basil served on fresh flatbread – I usually prefer to avoid bread of any kind when I eat out, but low and behold, one bite of this pesto shrimp flatbread made me scream for more! I ended up eating half the order that wasn't mine to begin with! It's that good!
The Beach Salad – $17 – strawberries, goat cheese, quinoa, candied pecans, lemon poppy seed dressing and grilled chicken breast – the beach is one of my favourite salads! It's variety of healthy ingredients and lovely sweet and tangy lemon poppy seed dressing makes it one of the best in Calgary!
If you find yourself at Chinook mall, are hungry and would like to sit down in a restaurant setting instead of grabbing something quick to eat at the food court then head to Joey Chinook! The restaurant is only accessible from the outside at the southern side of the mall close to Chapters.
Joey Chinook
Address – 100a – 6445 Macleod Trail SW, Calgary, AB

Phone Number – 403-692-6626