Keg Foothills Calgary Restaurant Review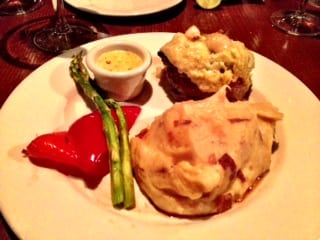 When I crave steak, the Keg Steakhouse is one of the restaurants that come to mind. After years and years of going to the Keg, I cannot remember one bad meal or one bad service experience at any one of the Keg restaurants here in Calgary.
The restaurant chains commitment to delivering the same great quality of cuisine and service at every one of their Calgary locations is apparent, and is why I am back, once again!
Keg Foothills (Stadium)
Atmosphere and Service
I absolutely love the atmosphere at the Keg across from Foothills Hospital. Dim lighting, stone and wood finishings and a very spacious seating plan makes it one of the more personable atmospheres here in Calgary. This Keg is especially great for romantic dinners!
And the service is impeccable! It's almost as if the Keg imbues their servers with hidden telepathic abilities so they know when to be tending your table and when to be giving you the privacy you want during your conversation.
Our Orders
Grilled top sirloin – $25.95 – 12oz - served with a side of your choose and roasted peppers – considered the most flavorful steak choice of baked potato roasted garlic mashed potato keg fries rice pilaf mixed vegetables twice baked potato contains bacon bits – oh man, this steak was so delicious and HUGE! You must try any Keg steak if you haven't done so already!
Spinach salad – $7.95 – baby spinach strawberries dried cranberries candied pecans and red onion in a Chardonnay vinaigrette with your choice of goat or bleu cheese crumble – added chicken for $9.95 – a considerably sized appetizer for a very hungry man! (Me). I wouldn't say the two small chicken breasts were worth 10 bucks though. Stick to the salad!
Do you love steak?
Then what are you waiting for! Head down to the Keg across from the Foothills Hospital and experience their steak for yourself!
Keg Foothills (Stadium)
Address – 1923 Uxbridge Drive NW, Calgary, AB
Phone Number – 403-282-0020