Lemongrass West Calgary Restaurant Review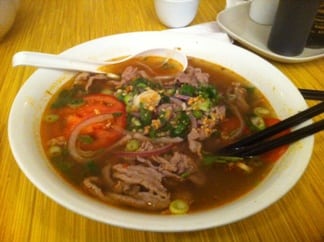 With so many Vietnamese pho restaurants in Calgary, it becomes normal to see three of four of them as you drive on main routes around the city. If you have a taste for authentic Vietnamese cuisine you know that even though most of them have the same variety of food, there are only a select few with delicious food that make them the best of pho restaurants in Calgary. My friend told me to meet him at Lemongrass West just off Richmond Road SW in the Glenbrook area, so I punched it into Google maps and was on my way.
Atmosphere

Lemongrass West was extremely busy with 3 or 4 groups in line ahead of us. We came at the right time though as we were seated within 5 minutes after our arrival. For a Tuesday night I was somewhat surprised to see how many customers the place had, so I figured there was a reason for it. The food must be spectacular for people to actually wait for pho when there are so many other Vietnamese restaurants nearby.
Our Orders
Lemongrass Chicken Salad Rolls (3 rolls) $6.95 – freshly wrapped lemongrass chicken served with peanut sauce. These salad rolls were one of the best I've ever had. They weren't the usual salad roll, but a delicious variant with a crispy taste on the inside and are decently sized to boot. A definite must try if you are hungry and need appetizers!
Spring Rolls $6.95 – Another appetizer made differently than at other Vietnamese restaurants. Very good and another must try appetizer!
Sate Beef Noodle Soup – $8.75 – Always a measure of how good a pho restaurant really is. Pho sate is a spicy vermicelli noodle soup usually with beef but with other variants as well like chicken and seafood and is done differently at every pho restaurant. This particular pho sate was delicious! I loved the extra veggies they added in the dish including tomatoes and extra cilantro. I recommend it!
One bonus to Lemongrass West is that they have a menu for gluten sensitive customers, which is great considering I am gluten sensitive myself!

A downside to Lemongrass West was that they were severely under staffed and drink refills / dirty dish removal at our table was very limited. Other than that, the place had a very cozy eating atmosphere with booths and tables and nice, modern decor. If you are by Westhills Outdoor Shopping Centre and your stomach is growling, why not check it out!
Lemongrass West
Address – 3715 51st Street SW, Calgary, AB
Phone Number – 403-242-2633