New condos in Calgary – 5 Point summary of selected new developments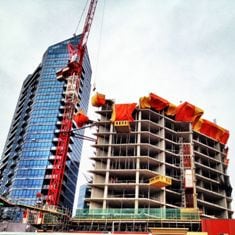 With so much economic growth and strong migration to the city, Calgary has new condo developments everywhere! Buying a new condo is no easy task with so many advertisements and messages all calling your name it can be hard to decipher what is important to you or more so, best for you. Our new Calgary condo summary provides you with 5 key points on the condo buildings selected. Call me anytime to discuss your new condo goals! 
Calla New Condos
Tribeca in Mission

82 Units
4 stories
Summer 2013
About 80% Sold
Developer: Bucci
Drake off the Red Mile
Keynote One and Keynote Two in Victoria Park

One – 179 units, Two – 250 units, Total – 429 units
One – 25 stories, Two – 36 stories
One – Completed, Two – Summer 2013
Developer: Keynote Development Corp.
Nuera and Alura in Victoria Park
Guardian by the Saddledome

321 units
42 stories
Summer 2014
About 70% sold
Developer: Hon Towers
Evolution in East Village

Fuse – 207 units, Pulse – 296 units
Fuse – 21 stories high-rise + 8 stories mid-rise, Pulse – TBA
Ready in 2014
Developer: Embassy Bosa
Champagne
Your New Condo Search

If you have any questions about any one of these developments, please contact me. I would be happy to assist you in meeting your real-estate goals. I would love to help you cut through the hype and evaluate the best new condo for your goals and criteria.