Phil's Glenmore Trail Calgary Restaurant Review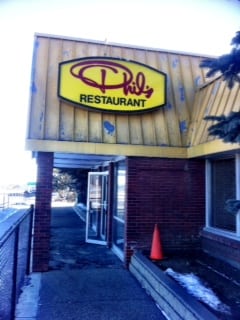 Phil's Restaurant on Glenmore Trail has always been a hot breakfast, brunch and lunch spot here in Calgary. Phil's offers some of the best breakfast and brunch for the price, and is a top contender for my hungry business any day of the week.
Atmosphere and Service
One thing I always love about Phil's Restaurant on Glenmore Trail is how quickly they manage to seat you regardless of how busy it is. I have visited Phil's before on a Sunday with a party of 10 and was seated in 10 minutes, making it a great place to go if you don't have reservations.
Phi's is also a great family dining spot with kid's menus and toddler seats. To top it all off, every server I've ever had at the restaurant are the best at what they do… no complaints whatsoever!
Our Orders
West Coast Omelette – $12.50 – onion marmalade, cream cheese, smoked sockeye salmon, grilled tomatoes topped with hollandaise sauce – I must say this omelette was unlike any other I've had, made different by the onion marmalade. It's sweet, almost like jam, mixing well with the sweet hollandaise and complimenting the delightfully fresh salmon. Give it a whirl if you like omelettes!

Eggs Benedict – $10.50 – toasted English muffin, Canadian back bacon, poached eggs topped with hollandaise sauce and serviced with two slices of French toast for an extra .75 cents. – Always a good choice at Phil's Restaurant is the eggs benedict. The hollandaise sauce isn't too sweet or bland, it tastes just right. If you are hungry, you might want to replace the hash browns with something else like French toast, for only .75 cents (2 slices), you can't beat the price!
If you're looking for some good eats any day of the week, especially breakfast or brunch, try Phil's Restaurant on Glenmore Trail! Hopefully you will enjoy this place as much as I do.
Phil's Restaurant Glenmore
Address – 907 Glenmore Trail SW, Calgary, AB
Phone Number – 403-252-6061