Pho Express Calgary Restaurant Review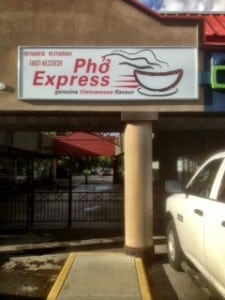 I had just finished a workout at the Richmond World Health Gym and found myself stuck with an irresistible urge for some Vietnamese food. Little did I know that there was a pho restaurant in the same strip mall called Pho Express!
I have been to this World Health on countless occasions and surprisingly it was the first time I had noticed Pho Express, it's somewhat hard to see because it's tucked away in an opening on the end of the strip mall, a few doors left of Pizza Hut.
Atmosphere and Service
Pho Express has a cozy little atmosphere with sleek finishings and a maroon, white and black color palette. Seats are comfortable and tables are at the perfect height. The interior is also well kept.

Service was some of the best I've had at any pho restaurant in Calgary, although there were only two other tables eating in besides myself. Regardless, my server made sure I had everything I needed and even asked how my food was which isn't typical of most pho restaurants.
Our Orders
Satay Beef Noodle Soup – $9.50 – Vermicelli noodles, lean strips of sliced beef, onions, two tomato slices served in the house special soup.
In my experience of being a pho lover the beef satay soup is a good measure of how good a pho restaurant is. Pho Express passed the test with this delicious concoction, a must try if you like spicy!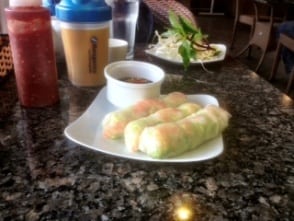 Shrimp Salad Rolls – $5.50 – Rice vermicelli noodles, shrimp, carrots, lettuce and basil in rice wraps.
These are always another good measure of how good a pho restaurant is. Some choose to make them fresh, while others make them before hand and store them away until ordered. Don't they know that as an experienced pho customer you can always tell if they are fresh or not? Pho Express makes them fresh, and they are good!
If you like Vietnamese food and are in the Richmond / Mount Royal area, you should try Pho Express! They have great food and an even better selection with more than 50 menu items. I know I will be back there sometime soon!
Also be sure to check out some of the Best Calgary Pho Restaurants.
Pho Express
Address – 4604 37th Street SW, Calgary, AB
Phone Number – 403-452-2626