Pho Pasteur Saigon Calgary Restaurant Review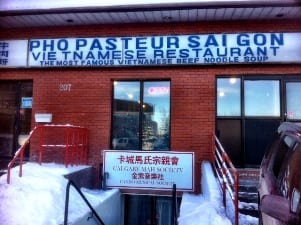 Vietnamese pho is one of my favourite cuisines. Even though I already have my favourite Calgary pho restaurants to rely on, I am always looking for the next best pho restaurant.
This time around I was in Chinatown when my craving for pho sate soup kicked in, so I decided to stop in at Pho Pasteur Saigon and try their take on it.
Pho Pasteur Saigon
Atmosphere
Pho Pasteur Saigon has somewhat of a rundown atmosphere. We were seated at a table and quickly noticed our chairs were a bit low for the table height. Needless to say we quickly adjusted and grabbed the menu.
Our server was very friendly and got us everything we needed. After care service was mediocre, just like at most of the other Vietnamese restaurants you will visit.
Our Orders
Pho Satay Soup – Both my friend and I were quite pleased with this pho satay soup! Although it wasn't as spicy as we would have liked, its ingredients were very flavourful. I was also surprised at the amount of beef put into the bowl. It was quite a large amount! Definitely a must try at Pho Pasteur Saigon!
Salad Rolls – One measure of how good a Pho restaurant is in my books is how fresh their salad rolls taste. These salad rolls were definitely made fresh and were jam packed with more mint leaves than usual, giving a great, minty twist on the flavour.
Spring Rolls – These spring rolls were quite large in comparison to those at other Calgary pho restaurants. I would give them a shot if you are a spring roll lover!
Vietnamese Iced Tea with Condensed Milk – If your feeling a bit tired, there's nothing like a good' old Vietnamese iced tea to boost your energy
If you are in Chinatown and have a craving for Vietnamese pho, I would try Pho Pasteur Saigon! Find it across the street from the Harry Hays Building.
Make sure you have cash on you! I was forced to find an ATM and withdraw money so I could pay the bill as they don't except cash.
Pho Pasteur Saigon
Address – Chinatown – 207 – 1st Street SE, Calgary, AB
Phone Number – 403-233-0477