Quarry Park Calgary – A Place to Live, Work and Play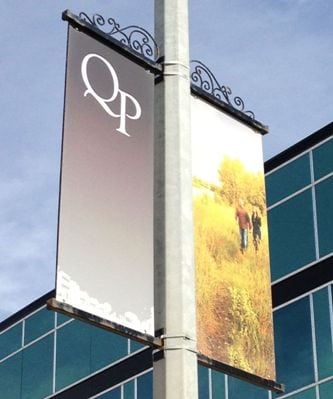 When it comes to thinking of where you could live, work and play all in one location, most of us would immediately turn our thoughts to the downtown or inner city areas. But have we thought about Quarry Park Calgary, a new mixed use community in the southeast?
Over the past few years, Remington Development Corp. has transformed the site of the old Lafarge gravel quarry into one of the rising stars in Calgary's new community scene. Quarry Park Calgary offers a perfect balance of homes, retail, commercial and natural areas all found less than 15 minutes from the downtown core and just when you think it couldn't get any better, it does with its amazing riverside location along the Bow River.
Living in Quarry Park
Quarry Park Calgary offers a living opportunity unlike many others in the city. Its central market, inspired by those inherent to towns and village in Europe, gives residents immediate access to many day-to-day conveniences such as the grocery market, coffee shop and restaurants, as well as many more amenities and services.

It's wide selection of homes appeal to a wide range of buyers; from families looking for an upgrade to empty nesters looking for a quality place to live, Quarry Park's three home builders make sure that the diversity of home styles is there to satisfy and exceed expectations. Check out the Champagne Condos in Quarry Park.

Combine Quarry Park's distinctive euro-style feature with it's beautiful new homes, an abundance of landscaped parks, natural areas and river pathways, not to mention a new recreational centre and library (open in 2014), plus a future LRT station, and you get one of the most convenient and livable new neighbourhoods in the City of Calgary.
Working in Quarry Park
Working in Quarry Park might hardly seem like work at all. Having lunch in the park, a drop in at the recreational centre before or after work or even a walk on the river for some r n r are only a few of the possibilities when working in Quarry Park.

And when it comes time to leave for whatever reason, quick access to some of the major city routes like Glenmore, Deerfoot and Heritage make it easy.

When all is said and done, thousands of people will call Quarry Park their work home. Over 1.7 million square feet of office space will host the likes of Imperial Oil, CARDEL Homes, TD Canada Trust, Canadian Pacific Railway and many more businesses. For those who will be working in the area, purchasing a New Home in Quarry Park might be more appealing than ever before.
Playing in Quarry Park
The spoils of living in Quarry Park are many. Blended harmoniously into the mixed-use community is an extensive network of pathways that connect the community well within itself, as well as to other parts of Calgary including Fish Creek Provincial Park, Sikome Lake and even downtown Calgary. Think of the possibilities!

Apart from an abundance of parks and pathways, Quarry Park will be host to a new recreational centre and public library set to open in 2014, while a newly planned LRT station will be built in the area once the Calgary southeast LRT line is underway.

Let's not forget about the restaurants that will give the chance for a dining experience very close to home. Here are 3 Reasons to Buy a Home in Quarry Park.
Live, Work, Play
It's hard to deny how wondrous it would be to have the opportunity to live, work and play all in your own very neighbourhood. With many companies relocating their Calgary offices to the confines Quarry Park, the opportunity to do all three is there, so what are you waiting for?
Questions about Quarry Park Calgary?

…from an experienced Calgary REMAX Realtor! Call me anytime at 403-370-4180 or message me below. I am looking forward to helping you accomplish your real estate goals!