Reds Diner Calgary Restaurant Review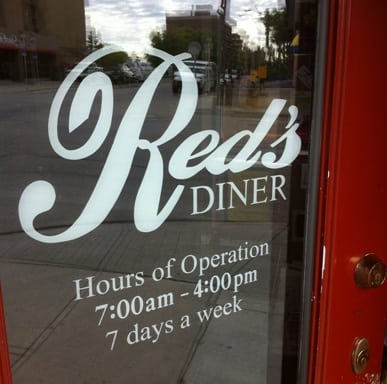 Reds Diner is an inner city Calgary restaurant open from 7:00am to 4:00pm every day. As a very popular breakfast and brunch restaurant in Connaught, be prepared to wait before being seated. Reds has a definite diner feel to it. Its signature yellow and red colors cover the interior and blend together nicely with various shades of gray and green to create a fine-tuned eating atmosphere. Art pieces like the Reds Diner car door and vintage signs definitely make the interior of this restaurant memorable.
After glancing at the menu I decided on the steak and eggs, a charbroiled 6 ounce steak with two eggs done the way you like it, plus 2 tomato slices and 2 pieces of toast. I was impressed at how quickly my food came considering how many people were currently seated at tables. The steak wasn't one of the best cuts I have had, but was gristle free and cooked to perfection. The thick, multi-grain toast already pre-buttered by the chefs went well with a bite of steak and HP sauce. This protein packed, delicious breakfast meal did the trick for my hungry stomach.
While Reds Diner isn't necessarily one of the best places for breakfast in my personal opinion, it is very affordable where the average plate goes for around $13 dollars. On the other hand I have talked to friends and family about Reds Diner, and they seemed to have liked it more than I. If you are in the beltline community of Connaught and are hungry for some breakfast, brunch or lunch, then stop by at Reds Diner and check it out for yourself! Let me know what you think about this restaurant and leave a comment!
Reds Diner
1415 4th Street SW, Calgary, AB
Phone Number – 403.266.3448
For another delicious morning meal in Calgary, be sure to check out Holy Grill Calgary Restaurant on the corner of 8th Street SW and 10th Avenue SW. Thanks!