Roosevelt Calgary Restaurant Review
Roosevelt is another great restaurant in Calgary located on the "Red Mile" a.k.a. 17th Avenue SW.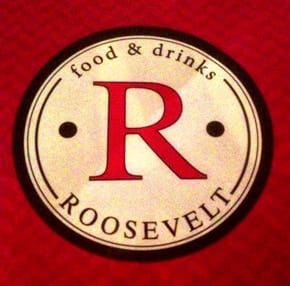 Known for their refined American style food and daily happy hour specials, Roosevelt is a great place to go if you love burgers, sandwiches, flatbreads, salads and other "tool of the trade" when it comes to American cuisine such as macaroni, short ribs, nachos and more.
Atmosphere and Service
Inside of Roosevelt you'll find somewhat of a mix of diner and lounge, with the majority of its tables being bar style and a few more comfy booths along the edge.

The booths are definitely the best seats for parties of 5 or more. If there's only 4 of you or less, a bar table should do, although the bar stools aren't my favourite.

Our server on this particular occasion wasn't doing the best job I've ever seen, but I'll consider the fact that Roosevelt was super busy at the time and she had quite a few other tables (and people) to serve.
Our Orders
Thai Inspired Lettuce Wraps – $11 – crispy noodles, mushroom, onion, carrot, red peppers, cashews, fresh mango, hoison panzu sauce, coconut jasmine rice
This fusion of Asian and American cuisine was delectable; hoison, mango, and coconut combine well with the traditional ingredients most of us use at home. We added chicken and it was a bit dry for my liking. Just a heads up!
Mushroom Swiss – $16 – Swiss guyere and sautéed mushrooms, the rest is self explanatory.
Roosevelt definitely knows how to do burgers well! The mushroom Swiss I ordered was so big, and juicy, that it not only filled me up, but also left a strong impression with my taste buds. If you love mushroom Swiss burgers like I do then you'll want to try Roosevelt's!
Roosevelt
Find yourself on 17th Avenue SW but aren't too sure where to eat? Stroll on down to Roosevelt on the corner of 9th Street and 17th Avenue SW. You'll be happy you did!
Address – 933 17th Avenue SW, Calgary, AB
Phone Number – 403-719-9330