Helping Sick Kids!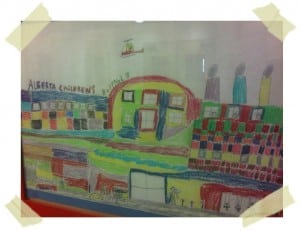 I recently toured the Alberta Children's Hospital as part of my involvement with the Children's Miracle Network and the Alberta Children's Hospital Foundation and it was a really fulfilling experience, I learned so much! . The moment you first see it, you will think of children, lego, toys, play time and fun. Unfortunately this is not where kids go to have fun, but where they go when they are sick but it is not all about the sickness.
The beauty about this place is that from the basement floor to the top of the roof every detail however large or small has been designed to make kids feel safe and free to have fun despite the circumstances.
Built in 2005, with input from 36 user groups, the designers built the hospital based directly off the children's input and drawings. What you have is a larger overall foot print and a less imposing structure. Rather than being 7 or 8 stories is was designed to feel smaller and less imposing at 5 stories. With smart use of exterior windows that look 2 or 3 stores high the building doesn't even feel that tall. Every detail right down to the slope of the parkade was designed with children in mind and using input from children.
When you walk in the main entrance you feel like you are in a school. Details like the main floor fish tank (one of 7 in the building) include the characters from finding nemo and are always a big hit with the kids. This is just one of the ways to make kids feel safe and more comfortable.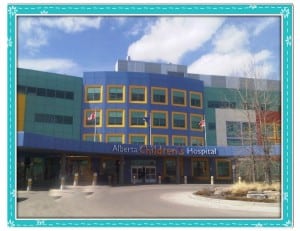 Another awesome feature of the hospital is Emilys Backyard. This is a volunteer run day care for the siblings of children at the hospital for treatment. There are so many awesome programs at the ACH for patients and visitors alike including a parent resource library, weekly movie night, bingo nights, a therapeutic arts room, family guest suites, a mulit-denominational sacred space, music therapy, outdoor playgrounds and rehabilitation play areas, a pet room for family pets, a huge theatre room and much more!
I encourage you to donate to the ACHF or Volunteer.  The Alberta Childrens Hospital Foundation always needs volunteers and more support. I must say I am proud of the enormous community support the ACH receives, I am proud we have such a high quality facility to look after our sick kids and I am proud to be a Calgarian and help our sick kids get better.