Vero Bistro… Gourmet Brunch in the Heart of Kensington
When it comes to gourmet breakfast and brunch in Calgary, there are few places that do it better than Vero Bistro Moderne – no kidding!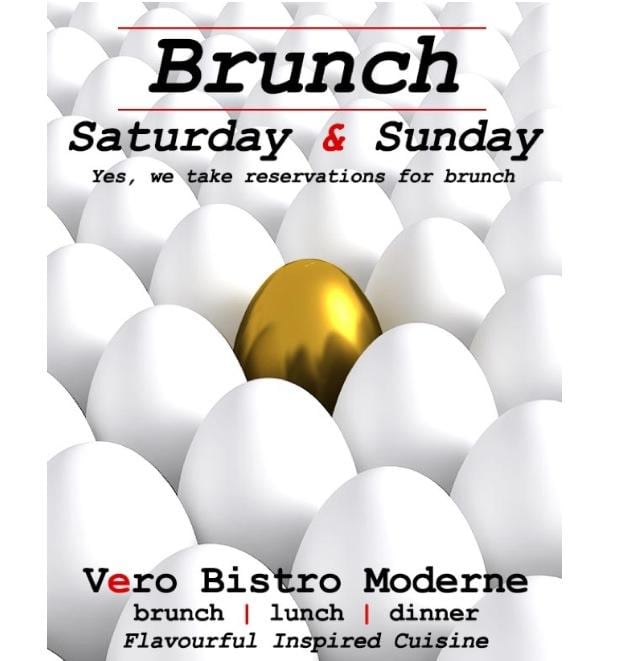 I was totally blown away by the high quality and delicious taste of their steak and eggs, not to mention the salivating that occurred as I stared at my breakfast partners salmon egg benedict.

*10 rated as best
Location
Atmosphere & Service
Vero Bistro Moderne isn't the biggest restaurant you'll ever go to which makes a reservation important especially if you want a timely brunch sit-down. Fortunately someone missed theirs so we happily filled in at their table.

Inside you'll notice sharp and contrasting colors: red, black and some white amid a very sleek and modern interior.

Most tables are somewhat close together, but then and again Vero Bistro is known to have more of an intimate restaurant setting that is especially appealing for couples.

There's just something about that bright red material that covers one wall inside that makes you want to kiss… your food.

Another thing I really liked about the smaller and more intimate restaurant space at Vero Bistro is that you definitely feel well taken care of by the team of servers working.

They all pitch in to make sure that all tables are covered for drink refills and anything else that customers may need. Absolutely no complaints when it came to the service!
Our Food
Steak and poached eggs – $29.95 – grass fed New York steak 6oz, truffle frites, arugula salad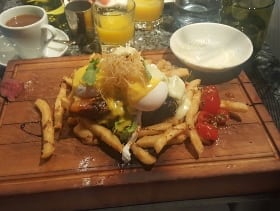 Vero Bistro's steak and eggs was perhaps the best I've ever had!

Completely gristle free, the 6oz steak sits atop a pile of scrumptiously crisp truffle frites that by the time you get to are covered in hollandaise and egg yolk.

Other ingredients included arugula and plump grape tomatoes that added a nice and juicy taste to the dish.
Montreal smoked meat organic egg benny – $18.95 – 1 poached organic vita egg, hand whipped hollandaise, fresh baked pastry, hotchkiss pea shoots
Vero Bistro departs from using an English muffin for all its bennies – and with much success.

Atop that deliciously fresh pastry is an egg done to your liking smothered in the housemade hollandaise and pea shoots combining to create a truly gourmet egg benedict.

A wonderful twist on your traditional eggs benedict, this dish is a must try for those who first of all love their bennies and second of all also love the acquired taste of Montreal smoked meat.
Overall Vero Bistro Moderne was outstanding on so many levels with its food, service and atmosphere that I really didn't mind paying a few extra bucks for the entire experience when compared to prices at some other brunch restaurants in Calgary.
I highly recommend this place for weekend brunch!
Vero Bistro Moderne
Address – 209 10th Street NW, Calgary, AB
Phone Number – 403-283-8988
I Love Calgary
For more of the best local activities, restaurants and everything else to do with YYC, give us a like at Calgaryism on Twitter, Facebook and Instagram and stay updated with all our posts via your social media feed today! We hope to see you there!