Waterfront Calgary Condo Building Review and Listings – 222 Riverfront Avenue SW, Calgary, AB
Built in 2010 and 2012
Anthem Properties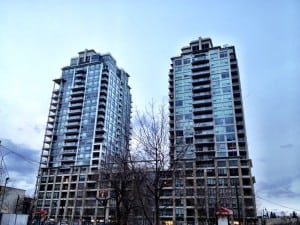 Waterfront Condos in Calgary are a riverside development by Anthem Properties. Convenient location and affluent finishings are only part of what makes Waterfront a popular condo development. These condos are on Riverfront Avenue between 1st Street SW and 2nd Street SW in a fabulous downtown Calgary location on the Bow river's south bank giving great access to the downtown business district, Eau Claire, river pathways and amenities and services that number over 1000 in the downtown area alone.
Waterfront Condos by Anthem Properties eventually will be home to over 1000 apartments. Units at Waterfront range from small and to large with various price ranges. Phase One – Small suites are anywhere from 505 square feet to 925 square feet. Two bedroom units are between 925 and 1054 sf. Smaller units have great floor plans that reflect the character of the experienced developer and have included indoor parking and a storage unit.
Condos have exceptional spacious designs with modern finishings. Amenities within the complex are extensive with full-time lobby staff, a fitness centre, gaming room, small cinema and a rooftop garden that will fill a space more than 6000 sf! Every single Waterfront living units in the two towers have beautiful panoramic views of Calgary in every direction, an awesome feature of these new condos!
Developer Anthem Properties
Anthem Properties is based in Vancouver with an extensive network of commercial, residential and office building properties in Western Canada. To date Anthem Properties has an impressive portfolio that includes 1000 residential apartment suites currently being built, approximately 50 acres of land that are on hold for projects in the future and currently have 3.5 million square feet of existing retail developments under their belt! Anthem has strict procedures and guidelines for each project. The Better Business Bureau of Canada currently has no rating for the company.
Questions about Waterfront Condos?

Anthem Properties are currently constructing a second Waterfront condo tower right beside the old one. If you want more information about either of these developments, or have any questions at all, please call me directly at 403-370-4180 or message me below. I am looking forward to your call!