Yardhouse Kensington Calgary Restaurant Review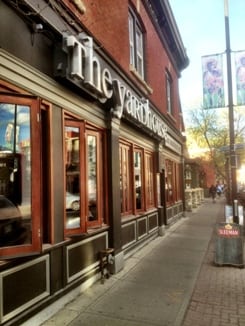 Are you looking for some good pub food and drinks in Kensington Calgary? You should try the Yardhouse!
Located on Kensington Road NW in the heart of the Kensington area, Yardhouse is a great place to enjoy some social eats, drinks, watch the sports game and have some fun while you're at it.
Atmosphere and Service
The Yardhouse in Kensington has your typical pub atmosphere with a central island bar, dim lighting and wood finishings.
Mounted behind the bar are large HDTV's playing the games of the day. If your team is playing you can enjoy the game with crystal clear clarity created by the pubs dim atmosphere and bright, quality picture HDTV's.
Apart from being a great place to enjoy the game over some eats and drinks, the Yardhouse in Kensington has exceptional service with very friendly and diligent staff.
On this particular occasion we sat at the bar and the bartender had asked us many times if things were going well and made sure we had everything I needed. He also advised us that Tuesday's special is a 2 for 1 appetizer, so we definitely took that into consideration before making our order. What a smoking deal!
Our Orders
Salt & pepper chicken wings – 2 for 1 – one pound of fresh wings, deep fried, seasoned, tossed in choice of flavours. Served with carrot and house made buttermilk ranch – these were cooked to perfection. Comes with a tasty dipping sauce for your chicken wings!
Spinach artichoke dip – $14 – spinach, artichoke hearts, cream cheese, shallots, red pepper, garlic. Warmed, topped with grana padano and served with crostini – for those who like artichoke dips, this particular one is a bit out of the ordinary, a bit on the chunky side, but still good!
Spicy chicken sandwich – $13 – seasoned breaded chicken breast, bacon, jalapeño jack, spicy aioli, greens, tomato, red onion – I loved this sandwich. If you love spicy buffalo chicken or chicken sandwiches in general, you have to try the Yardhouse Kensington spicy chicken sandwich!
The next time you find yourself looking to enjoy some good pub food, try heading down to the Yardhouse in Kensington. Before or after you eat, if you feel like shopping be sure to check out Shopping in Kensington Calgary for some of my favourite stores and more!
Yardhouse Kensington
Address – 1136 Kensington Road NW, Calgary, AB
Phone Number – 403 – 283-3021