Calgary Hidden Gems – Fourth Street Pizza (Mission)
Once every so often I stumble across a new hidden gem in Calgary usually through the recommendation of a friend or sometimes from the desire to try something new.

The first scenario was the root cause this time around; it was suggested we order in from Fourth Street Pizza for a quick lunch before heading down to the river for the afternoon.

After the first bite into that divine meat lovers' pizza, I knew I had discovered another Calgary hidden gem and needed to tell you all about it.
Location
Located on the corner of 21st Avenue and 4th Street SW, Fourth Street Pizza is easy to reach on foot for anyone in Mission, Cliff Bungalow and Lower Mount Royal looking to indulge in a tasty pizza meal. Also see our Top 6 Food and Drink Spots in Mission today.

Delivery is available to customers just in case you don't feel like walking to and from with a big pizza box in hand, not to mention any drinks and extra dishes like chicken wings you might grab.

Delivery is also free for customers within a 5 kilometre radius, although this service doesn't start until 3:00pm.
Our Order
Meat Lovers Pizza (L) – $20.50 – pepperoni, beef, salami, bacon, ham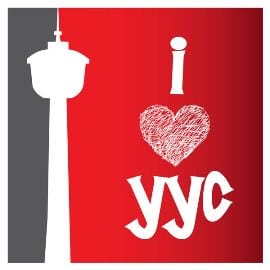 Most meat lover pizza's I've had I didn't enjoy because I find that the meat combination was just too much and left a heavy feeling in my stomach.

However, Fourth Street Pizza's take on it was quite the opposite. Most of the meat was cooked underneath the top cheese layer compared to other pizza joints baking it on top which kept it from drying out and losing flavour in the process.

Combined with just the right amount of top cheese, the underlying pepperoni, salami and ham flavours really shone, while the beef and bacon were harder to notice but at the same time added a nice change in texture. My friend and I scarfed this pizza down pretty fast – it was that good!
Other Food Options
Apart from the pizza, another great thing about Fourth Street Pizza is its large selection of ready-to-order choices ranging from meat lovers to the vegetarian special (artichoke hearts, tomatoes, green peppers, onions, mushroom).
Some others that have caught my eye (and will be trying soon):
Chicken gourmet – roasted lemon chicken, mushroom, onions, tomatoes

House special – pepperoni, salami, beef, mushrooms, ham, green peppers, tomatoes, black olives, onions

Cajun delight – red, green, banana, jalapeno peppers, Italian sausage, onions, mozza cheese
These are just a few of the 23 selections that you have. You can also choose to make your own pizza with a total of four toppings for no extra charge.
Fourth Street also offers a cool deal called "save 10 receipts" – all have to be over $18.00 to get a free 12 inch, three topping pizza for free! Other foods to go with your pizza order include:
Caesar, Greek & tossed salads
I highly recommend calling Fourth Street Pizza the next time you're in for a delightful new take on one of your favourite pizza dishes. I myself was very pleased with the quality and taste of our meat lovers order and will be calling the next time pizza is on the mind.
Fourth Street Pizza also has another location on the corner of 21st Avenue and Edmonton Trail NE for those on the other side of downtown.
More Hidden Gems
Fourth Street Pizza
Address – 2107 4th Street SW, Calgary, AB
Phone Number – 403-229-0422
Join Us
Looking for more of the best local activities, events and restaurants in YYC? If so, give us a like at Calgaryism on Twitter, Instagram and Facebook today and stay updated via your live social media feeds. We hope to see you there!