Calgary Infill Homes – Detached vs Attached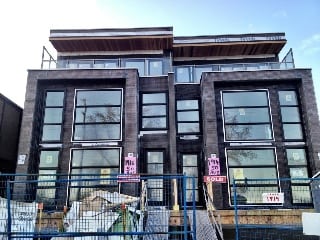 Inner city home buyers looking for a newer built modern home with all the associated amenities and finishings have 2 main choices in the style of the infill home they buy. Either a single family detached home or a single family attached home.
Whats Different?
When comparing detached vs attached infills, there are many differences that separate the two. The most obvious difference between each style is that a detached infill is not connected by a shared wall and is a stand alone house. Detached infills can be narrower if built on 25 foot lots and they aren't always built in pairs. Detached infills can also be built on wider lots achieving wider homes and more space.
On the other hand, an attached infill is built in pairs and does have a common wall between them. This style can also be called a duplex style home and is almost always built on 50 foot wide lots to maximize the home size and space on that standard lot size.
It is commonplace to find pairs of attached infills built on lots 50 feet wide, and is uncommon to find them on lots any larger than this. Their counterparts reign supreme for larger sized lots over 50 feet wide, and are the majority of infills built on these properties. However, this is not to say detached infills are only found on larger lots. Infills found in Calgary are both detached and attached styles, usually found on lots 50 feet in width and are built in two's.
Detached vs Attached – Comparison of Width Dimensions
When deciding on what kind of inner city home is best for you, it is important to understand the dimensions of a detached vs. attached style. Detached infills are built in two's on a 50 foot wide lot will have smaller width dimensions, usually 17 feet, so there is enough space between the two homes and the adjacent lots. On the other hand, attached infills are typically 21 feet in width since they share a common wall and have no property gap between them.
Infills in Calgary
Inner city infills in Calgary are becoming more of a popular home style those looking to live in a central region. If you would like to know more about detached vs. attached infills, or have any other questions, let me fill in the details for you! Contact me below or call me anytime directly at 403-370-4180
More Calgary Inner City Buyers Guides