Best Calgary Tourist Attractions – TELUS Spark Science Centre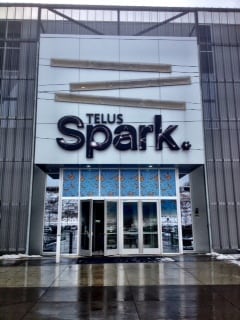 Are you planning on visiting Calgary and are looking for some ideas on where to go and what to do? If so you won't want to miss the new TELUS Spark Science Centre, one of the best Calgary tourist attractions around!
TELUS Spark is a one-of-a-kind destination here in Calgary, a place where people of all ages can learn about several aspects of science such as…
Our solar system and other space objects

Our environment; earth, water and air

Our technologies and other inventions

Scientific history and achievements

Alberta's oil and gas industry
Don't let yourself be fooled by all the kids you might see as you walk into this best Calgary tourist attraction. Most of its exhibits have playful features for children and use simple language to explain things, but you'll be amazed at what you will learn if you observe carefully. I know I sure was!
HD Dome Theatre
One of the must-do activities at TELUS Spark is to experience the dome theatre. Inside you'll find a gigantic HD digital dome screen that wraps around the entire circumference of the theatre, immersing all your senses into one ultimate cinema experience. It is also one of the largest of its kind in North America – super cool!
I had the opportunity to go watch "Flight of the Butterflies" – this show had an impressive sequence similar to that of a documentary made by National Geographic or Discovery and was worth every dollar. Other shows at the time included…
The Last Reef – a beautiful display of coral reefs and marine wildlife around the world and a look into what would happen if they were to disappear entirely.

Our Night Sky – take a trip into our night sky as you explore our sun, other planets and their moons in our solar system.

Our Milky Way – go even further into space and discover the massive Milky Way. Travel hundreds of light years and see how stars are born, die and how energy they produce and other space elements make life possible for us all.
At any given time TELUS Spark's HD Dome Theatre showcases four shows. Just make sure you get your tickets well before hand because no one is allowed in when the show begins and also know that if you leave the theatre in the middle of the show you aren't allowed back in. Not to worry, they will remind you of all the details when you enter the theatre.
For those who might prefer to only see a show at the HD Dome, they offer a ticket price for the last show on weekends. You'll save big on the admission price!
Cafeteria
Chances are you'll be hungry after viewing the 45 minute show in the dome theatre. Upon exiting, you'll be standing in the front of the cafeteria area. They serve typical concession snacks such as hotdogs, burgers, fries, chicken fingers, bottled drinks and more. I found a few snacks were a great way to refuel and continue discovering all there is at the TELUS Spark Science Centre.
More Activities at TELUS Spark
Check out the gift store where you'll find everything from clothing and books to toys and coffee mugs.

Create, innovate and inspire at the Prototype Lab with your children or perhaps with one of the friendly TELUS Spark staff too.

Weather permitting; children will have access to an incredible outdoor playground with new additions every year!
Adults Only Night
Adult night on the second Thursday of every month. From 6:00pm to 10:00pm, the TELUS Spark Science Centre is transformed into the ultimate adult venue as they create a more involved program catering to the likes of older generations. Each adult night has a different theme, so what are you waiting for?!
Visiting Calgary?
If you're looking for some of the best Calgary tourist attractions, you know the ones that give you a pleasurable travelling experience and make lasting memories, then you'll definitely want to take a trip to the TELUS Spark Science Centre. Take my word for it!
For more of the best places to go when you're in town, check out…
Join Us…
We invite you to come and join us at Calgaryism on Facebook, Instagram and Twitter today.
Learn everything you need to know about Calgary, Alberta and Canada through our in-depth media infographics and 30,000 plus member community. We hope to see you there!