Did You Know the Caesar was Invented in Calgary, Alberta?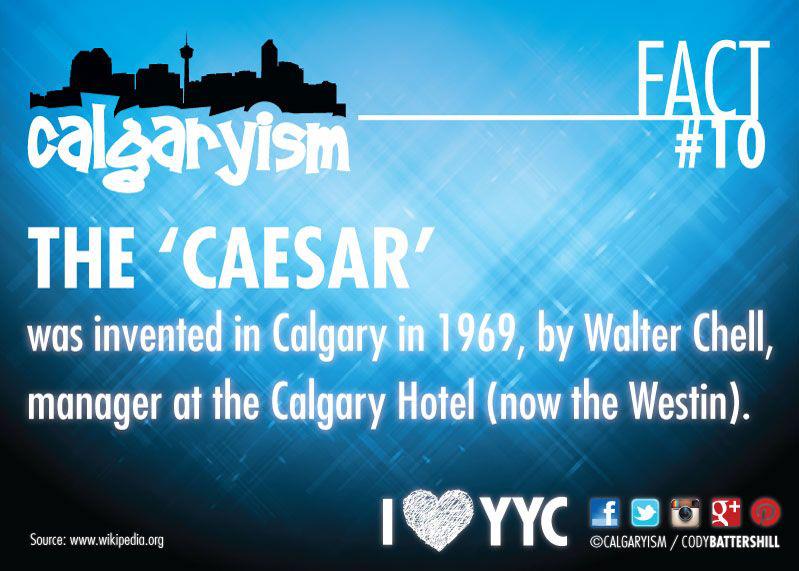 The 'Caesar' was invented in Calgary in 1969, by Walter Chell, manager at the Calgary Hotel (now called the Westin).
A Local Invention
You may not have thought that the Caesar(s) you ordered last weekend originally came from 'the heart of the new west'. But did you know that Canadians consume over 350 million of these Calgary-born drinks every year?!

Today, Caesars come in many different versions, which might be why its such a widely liked drink across Canada and in some other places of the world as well.
Caesar's History
This cocktail legend began almost 50 years ago at the Calgary Inn, known today as the Westin Calgary Hotel. Bar manager Walter Chell was given the task of creating a signature cocktail to celebrate the grand opening of the hotel's Italian restaurant called Marco's.

Being of Italian heritage himself, Walter took pride in creating something unique for the event and spent two months mixing concoctions before he took inspiration from one of the menu items called Spaghetti Vongele (or spaghetti with clams). Walter squished the clams until they were nearly liquefied then mixed it with tomato juice.

After more experimentation with ingredients and determination to make the perfect cocktail, Walter found that adding:

A smidgeon of hot spice
A dash of sweet Worcestershire sauce
An ounce of Vodka
Italian oregano

…was all it took to accomplish the task he originally set out to do. Crowning the drink with a festive celery stick, Walter named his masterpiece after the Roman Emperor of old – Julius Caesar.
Motts Company
Around the same time a California-based company called Motts was experimenting with a similar drink blend that Walter was. The company took notice of Walter's creation and hired him for advice on what the best pre-mix blend would be, eventually creating a new product called Clamato juice.

Motts set out on a national advertising campaign to make the newly founded juice well known to the people. Walter was a central part of that as he was featured giving aptly advice to the public on how to make the best Caesar ever. It didn't take long for the Caesar name to become standard in bars and restaurants across Canada and some border states.

*Sourced from Tourism Calgary
5 Places to Grab a Caesar in Calgary

#1 – The Westin Hotel – there's no better place to try this drink than at its birth place

#2 – Proof YYC– known as one of YYC's best cocktail bars, Proof has a Caesar that won't disappoint

#3 – National on 17th Ave – both National locations in Calgary's beltline have a killer Caesar you'll love

#4 – Ki Japanese – infused with Japanese flavour, Ki's unique take on the Caesar will leave you wanting more

#5 – Local on 8th – Get a traditional Caesar but served Calgary style – in a cowboy boot – served with pepperoni
I Love Calgary
Want to know more fun and interesting facts to do with YYC? If so, we invite you to check out our Calgary Facts & Infographics as well as our Facebook / Instagram page Calgaryism for more of everything to do with our wonderful city. We hope to see you there!