History of Calgary – Then & Now – 1908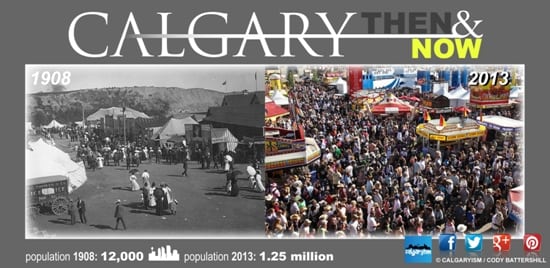 1908 – Population of 12,000

2013 – Population of 1.25 million
Calgary in 1908
In 1908 the Calgary Stampede was host to the annual Dominion Exhibition of Canada. From 1879 to 1913 the government of Canada assigned one of the larger fairs in the country to be the host for the exhibition.
Funds from the Canadian Government helped build the roofed grandstand, exhibits and livestock buildings and a number of animal barns.
Hosting the Dominion Exhibition was a special year for the Calgary Stampede. Special events at the Dominion Fare included…
Alberta Day, Dominion Day, American Day, Farmers Day, American Day, Citizens Day, Ladies Day and Ranchers Day. They set the tone for the special days we see at the Calgary Stampede in present times.

A live performance by cowboy trick roper Guy Weadick who was part of the renowned 101 Ranch Troupe.

Prize money totalling $13,000 at the Dominion Fair.
For more of our cities history, be sure to check out the History of Calgary – Then and Now!