10 real greenhouse gas facts about the oil sands you need to know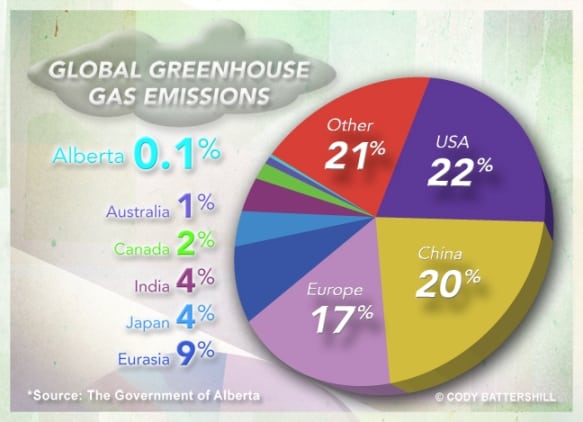 1. The oil sands is 0.1% of world global greenhouse gas emissions
2. Top climate scientist says Oil sands is not climate bad guy
3. Oil sands is 6.5% of Canada's ghg- as recorded by greenhouse gas emissions by sector in 2009
4.Oil sands is about equivalent to 3.5% of the emissions from the USA coal fired power generation sector
5. Oil sands emissions per barrel of crude produced are down 29% in last 20 years
6. NEB estimates oil sands wouldn't even be 1% of world greenhouse gas emissions in its 2035 high production forecast scenario.
7. A single coal power plant in Illinois produces 25% of the greenhouse gas the entire oilsands does per year.
8. South Africa is building 2 two coal power plants that will combine to produce more than 50% of the ghg the entire oil sands does per year.
9. Other sources of oil in the world are similar or higher than the oil sands for ghg emissions.
10. The oilsands industry is spending billions, furthering improvements in environmental performance and transparency.
Although different engo's like to claim the oilsands is a "carbon bomb" for the world, this claim has been proven wrong & inaccurate. Certain groups have based their entire existence on the claim the oilsands is game over for the climate and again this has been proven completely wrong by one of the worlds most respected and top climate scientists. Most recently this past week Dr. Weaver, one of the world's most respected climate scientists released a report where he showed these outlandish claims to be wrong yet again. We all have to make our own decisions about what we believe, me personally, I choose to believe science & facts over the inaccuracies and propaganda by the paid by staff of these engo's that promote self serving statements meant to keep the donations rolling in and their personal pay cheques coming.
Additionally, the EU is considering labeling the oilsands from democratic & free Canada as more ghg intensive than other heavy oils such as those from Venezuela, Nigeria and the middle east which are in the same range. The big difference is the EU imports no oilsands oil but imports large quantities of some of the latter. At the same time the oil sands has the world's highest level of environmental tracking and regulation, unlike OPEC oil producers. I would argue the true environmental impact of the vast majority of the world's oil supplies is unknown for lack of proper data & transparency. When you compare apples to apples Canada and the oil sands come out ahead on every metric.
Sources: CAPP, EIA, AB GOV, NEB, ENVIRO CAN