Eau Claire Calgary Condo Community Review and Listings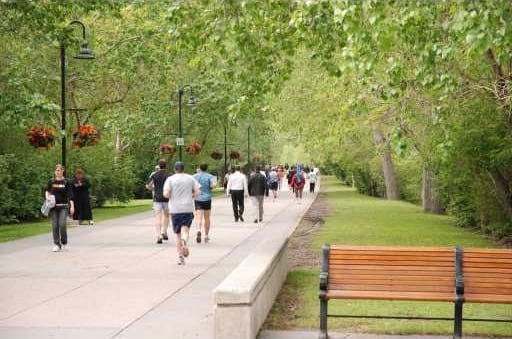 Eau Claire is a downtown condo community in Calgary located between the Bow River, 2nd Street SW, 3rd avenue SW and 8th Street SW. Eau Claire was established in 1885 without having its official name of Eau Claire just yet, a name that was later adopted from the Eau Claire Lumber Company that was established in 1886.
Eau Claire was once a quiet riverside residential community without much development. In recent decades the neighbouring business district of downtown Calgary has influenced the area, penetrating all aspects of Eau Claire, promoting new urban developments such as riverside condo complexes.
The area has wonderful character created by both natural and urban environments that come together magnificently for an enjoyable atmosphere. Amenities are available in Eau Claire Market as well as surrounding business districts north of the river and further south of 3rd Avenue SW.
Location
Amenities and Services
Eau Claire Market is a handy resource for residents looking to shop, eat and be entertained close to their new riverside real estate in downtown Calgary. The shopping centre has a full spectrum of businesses, numbered at over 50 and counting! Movie theatres, grocery market, dining, you name it, it's there.

Other services are found less than 3 km away on a number of different main routes such as 16th Avenue North and Centre Street. A main attraction for potential condo buyers in Eau Claire is the ability to live a downtown lifestyle, preventing wasted time stuck in traffic while traveling to that must do errand. China town and the Chinese Cultural Centre are also adjacent to the downtown condo community.

Everything is available to you in the Eau Claire area including a plethora of public transportation that makes for efficient traveling time.
Eau Claire schools
Eau Claire doesn't have any public schools in the area, but the designated schools for public education aren't too far away. Elementary designation is to Connaught Elementary in the Beltline area. Student's grade seven to nine are designated to Mount Royal Junior High and grades ten to twelve are designated to Western Canada High School. Downtown also has multiple post-secondary institutions such as Bow Valley College that serve students all ages.
Eau Claire Demographics
If you are potentially interested in a new or existing Calgary condo in the Eau Claire area, here are some interesting statistics recently collected by government survey. (City of Calgary, Civic Census 2009)

Ages 24 and below (2011) – 10%
Ages 25 to 54 (2011)– 47.7%
Ages 55 and up (2011)– 42.3%
Average household income – $75,606 (Statistics Canada, 2006 Census)
Percentage of population with a High School Diploma or higher – 89.1%
Ratio of residents who own their property – 66.0%
Ratio of residents who rent their property – 33.5%
Public Transportation
Public transportation provided in the area is abundant, with many different stops. Walking south to the LRT terminals takes less than five minutes. Getting around without a car has never been easier. Some routes in the area or nearby include South Calgary, Mount Royal, Lakeview, Ogden, Downtown Shuttle, Signal Hill, Coach Hill, Strathcona, Killarney, Richmond Road, Sarcee Road, McKenzie Towne, Tuscany, 69th Street and many more! Downtown rush hour express shuttles can get you to outer city suburban communities quickly.
Eau Claire Community Boundaries Are:
Northern Border – the Bow River
Eastern Border – 2nd Street SW from the Bow River to 3rd Avenue SW
Southern Border – 3rd Avenue SW from 2nd Street SW to 8th Street SW
Western Border – 8th Street SW from 3rd Avenue SW to the Bow River
Questions about Homes in Eau Claire?

If you have any questions about luxury condos in Eau Claire, Calgary, I would be happy to assist you. Call me anytime at 403-370-4180 or message me at the bottom of your web browser.
More downtown Calgary condo communities include
Search All Eau Claire Condos Now