Eats of Asia Calgary Food Review (at Crossroads Market)
Crossroads Market is full of wonderful surprises! From fresh and healthy farm produce to rare sports collecting / trading booths, there's a little bit of something here for everyone.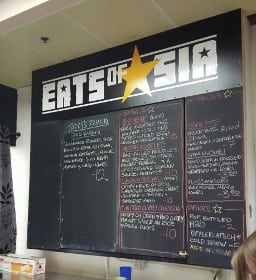 That includes places like Eats of Asia, a small eatery located near the public bathrooms on the west side of the market that serves up delicious made-to-go dishes for an incredibly affordable price. Also see our Best Calgary Food Under $10.00 today.

*10 rated as best
Location
Atmosphere & Service
Eats of Asia's doesn't have its own sectioned off seating area where you enter and sit down to eat like most restaurants. Instead, it just has stools around the corner restaurants perimeter.

With that said, its atmosphere is very much that of the inside of Crossroads Market at the time. During our visit, there was a mother and daughter playing a beautiful piano and violin duet that really made my first Eats of Asia experience that much more awesome.

Because of the set up the server is right in front of you the entire time so service is never bad. Anything you need – whether it be napkins, hot sauce or another order of those ever-so-delicious Japa-tots – you got it almost immediately!
Our Food
Japa-tots – $7.00 – tater tots topped with fried spam, teriyaki and Japanese mayo
The deep fried taste of tater tots infused with small chunks of spam and a delightful mix of sweet teriyaki / Japanese mayo make these the perfect way to start off any Eats of Asia experience. The serving is pretty big for the price so I definitely recommend sharing this one.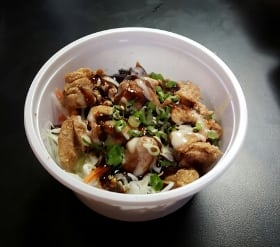 Chicken Teriyaki – $10.00 – crispy fried chicken on white rice served with shredded cabbage, carrot and shitake mushrooms, topped with teriyaki and Japanese mayo
Crispy slices of chicken are cleverly mixed with crunchy cabbage and carrots topped with a mildly spicy Japanese mayo and sweet teriyaki sauce, creating a delightful mix of textures and tastes that will leave you coming back for more every time. This one is a must try!
The next time you're out and about in the Inglewood / Ramsay area and are looking for some bang for your buck, I highly recommend stopping in at the Crossroads Market to check out what Eats of Asia has to offer.
You will not be disappointed with either the food or price!
Eats of Asia
Address – 1235 26th Avenue SE, Calgary, AB
Phone Number – 403-801-9453
I Love Calgary
Looking for more of the best local activities, restaurants and everything else to do with YYC? If so, we invite you to join us and thousands of other locals at Calgaryism on Twitter, Instagram and Facebook today. We hope to see you there!