Convenient location, modern living and family orientated communities are 3 key benefits of living in Calgary's inner city areas.
As your new infill homes and inner city real estate guide, I will help you choose the best location and help you make the best inner city move possible.
Calgary Inner City Real Estate and Infill Homes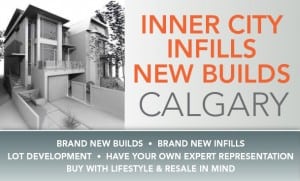 New inner city homes, otherwise known as infills, are one of the most desirable types of homes on today's real estate market.
Almost every single inner city community has experienced a renewal of life through countless infill developments that have attracted many urban professionals looking to live close to downtown Calgary. Search all Calgary Infill Homes.
Inner city communities are generally very safe with multiple parks, pathways, mature vegetation, close by designated schools, amenities and public transportation services.
These benefits and the proximity to downtown make them convenient and desirable communities to live in.
Want to know more about these areas? Be sure to check out these Calgary Inner City Homes for a complete guide to all inner city neighbourhoods and listings.
Questions about Calgary Inner City Homes?

With my extensive experience in the inner city market I will help you make the most informed decision when making a move in Calgary's best inner city areas.
I am looking forward to helping you accomplish your inner city real estate goals!
Convenient Location
A large part of the desirability of Calgary inner city homes is their location.

Found in close proximity to countless amenities and service, living in the inner city is a huge convenience sought after by many infill buyers.

Here are 5 Must Ask Questions for Infill Builders.
Modern Living
New infill homes are for the most part very luxurious and highly customized.

They showcase the works of some of the best custom home builders and offer extremely sophisticated living in a high density urban setting.

What is an Infill Home anyway?
Family Oriented Communities
Calgary inner city homes are located in very family-oriented and safe communities.

These communities provide opportunity for families to grow together and have fun through the use of multiple parks, pathways, nearby schools and activities.