Lazy Loaf and Kettle Calgary Restaurant Review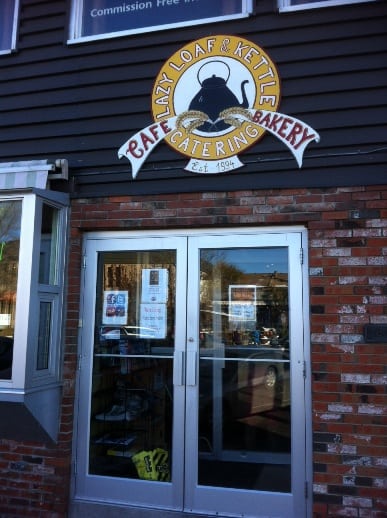 I really wasn't too sure about dining at the Lazy Loaf and Kettle at first, but afterwards I was glad to have visited the establishment. This northwest Calgary restaurant is one of those awesome breakfast, brunch and lunch spots you won't want to miss and is open for dinner as well until 9:00pm daily.
The Lazy Loaf and Kettle is a Cafe style restaurant known for its delicious, home-made food made right from scratch. I have been twice and both of these times the restaurant was packed. As a food enthusiast I know that a busy restaurant usually means good food and service that keeps people coming back for more. They also sell a large variety of freshly made desserts and baked goods.
The Food…
After waiting briefly in line, my lunch partner and I decided on the…
Traditional Eggs Benedict – $12.75 – Back bacon, poached eggs on top of a home-made English muffin, topped with the house hollandaise sauce, served with a cup of fruit and hash browns – One of the best parts to the eggs Benedict was the house hollandaise sauce and home-made English muffin (nothing beats home-made bread!!). The hollandaise was very tasty, not too sweet or bland, but just right. I would definitely have this menu item again.
3 egg omelette – $11.75 – There are 6 fillers to choose from. You get 4. I chose mushrooms, onions, homemade salsa and cheese. One of the most delightful parts to the omelette was the lovely white Swiss cheese used and the home-made salsa (a must try!). I recommend trying out these two fillers if you choose the omelette!
For drinks, we had a bottle of Evian and green tea and a slice of banana bread, for a total combining cost of $32 bucks plus tips…not bad at all for 2!!
This place has some of the best toast I have ever had! Its home-made and thick…its just so delicious! Try their toast!
I recommend trying the Lazy Loaf and Kettle in Calgary for some breakfast or brunch. I haven't had the opportunity yet to try any lunch or dinner menu items, so if you have I would love to know what you thought about it below!!
Lazy Loaf and Kettle
Address – 8 Parkdale Crescent NW, Calgary, AB
Phone Number – 403-270-7810