Benefits of Calgary Townhouse Living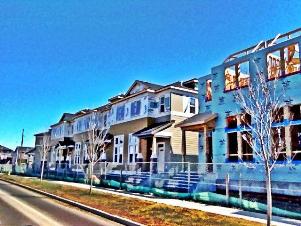 Today, the real estate market in Calgary has a wide variety of homes for buyers to choose from. Some might prefer the space of a single-family home, or perhaps the lock and leave lifestyle offered by apartment style condominiums.
In the middle of these two home styles are townhouses. Calgary townhouses are a great alternative to a more expensive single-family home, and provide some of the benefits of condo living.
Not sure what a Calgary townhouse has to offer you? Here are the benefits of living in a townhouse in Calgary…
No neighbours below you
Typically when you live in a Calgary townhouse you will have no neighbours below you, except for very rare circumstances in a stacked townhouse configuration. Most townhomes seen in Calgary are not stacked and the only thing you will have below you is your basement.

This is where a townhouse will remind you of the benefits of single family home living with extra space and your own basement!
Increased security
The close proximity townhouses have to each other can create a sense of community between neighbours and help improve safety within the complex. Having more eyes and ears around can always help increase your homes security and if something does happen, it's likely it will not go unnoticed.
Maintenance free lifestyle
Calgary townhouses have less maintenance than their single-family home counterparts. Sharing a common wall with your neighbours and having smaller if any front and back yards drastically reduces the amount of time spent on home maintenance.

–Some townhouses will have larger yards than others; ask me about finding the perfect townhome to meet your criteria!
Best of both worlds
Calgary townhouses offer the advantages of condo living with little maintenance while owning your own space that is styled like a single-family home.
Parking
Most townhouses in Calgary will have parking adjacent to the home itself, meaning you won't have to walk a considerable distance from the parkade to the elevator and then down a hallway like in an apartment style condo. You can get in an out quicker and carrying groceries or storing toys or tools is a lot more convenient with your own garage or parking space.
Affordability
In suburban Calgary communities, townhouses can be an affordable option when you don't necessarily want an apartment style condo, but you're not quite ready for a home. In the inner city, buying a townhome can get you the location you want at a reduced or more affordable price compared to brand new or infill home construction.
Questions about Calgary Townhouses?

Call or text me anytime at 403-370-4180. I would love to help you find the perfect townhouse to meet your goals.
Calgary Townhouse Search