New Calgary Condo Guide to Choosing the Right Developer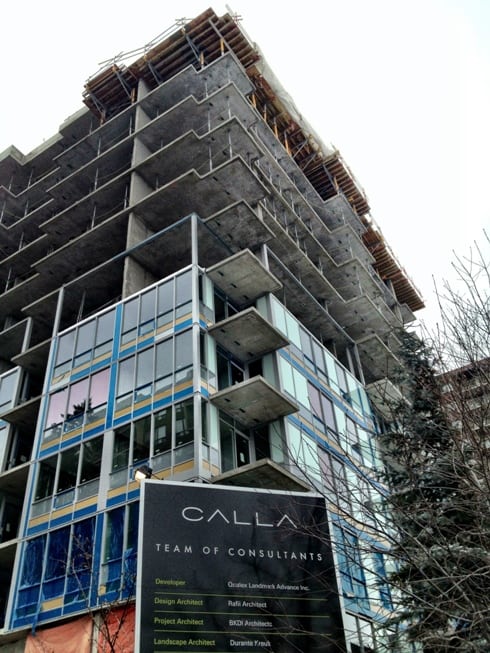 So you've visited the new and flashy show suite for a new Calgary condo development that just happens to be in your favourite location and you're convinced its love at first sight.
Before you let this newly found love sway your decision any further, take a step back. It's in your best interests to slow the process down and really evaluate a few things.
A Huge Commitment
As with any real estate deal, a lot of money is involved. You're money that is, in large enough sums that you should proceed with caution before getting too excited with a pen in hand and a contract on the table.
After all, if a home or condo you are interested in hasn't been built yet, you will definitely want to be buying with one of the best developers around who are trustworthy, have a good reputation and are accountable to their customers.
This couldn't be any truer when it comes to understanding and making a carefully informed decision on which developer you're going to purchase with and what their past track record is.
Make a Fully Informed Decision
Comparing each project for the value, the location, the finishings and the developer's reputation is a good place to start.
This is why it's critical to contact me below or call me directly and work with a new condo expert in Calgary. I work only for you, looking out for your best interests while giving you unbiased independent expert opinion so that you can make fully informed decisions.
Send me a message, call or text me anytime so we can discuss the best developers, the best projects & where the best value is in Calgary when you're buying a new condo.
Here is our new Calgary condo guide 4 tips to choosing the right developer for the job.
Tip #1 – Research the developer in and out
Thoroughly scan through the internet for information on reputation of the developer as well as for any buyer reviews. Negative feedback from a majority of previous buyers or a developer with a financial crisis both are two huge red flags and you might want to reconsider your decision to buy with them. Some questions you could ask include:

How long has the developer been in business?
What is their experience in the type of development you are interested in?
Who is the developer using as its general contractor?

There are many nuances and details to consider when buying a new condo. Hiring me as your guide costs you nothing and I ensure my clients are fully informed with every last detail you need to know to be able to make the best decision when buying a condo.
Tip #2 – Word of mouth
One of the best ways to determine if a developer and their beautiful new condo project is worthy of your hard earned cash is references.

Find a past project the developer has done and stop by for a visit. When visiting the building, why not approach one of the condo owners you see in any public areas and ask for their opinion? You can also even knock on someone's door or contact the condo board.

More often than not, you will find that residents are very happy to share their experience with you. It's always best to hear it straight from an owner who has already been involved with the developer throughout the buying process and living experience.

I find people usually never hold back on commenting what their experience has been like, good or bad. If it's good they will probably recommend buying at the place and tell you a few things they love which is always good information to know. If it goes the other way, well let's just say they usually aren't shy of letting you know exactly what's wrong. The more information the better!
Tip #3 – Read the fine print
Read the details of every contract and condo document you come across including the condo bylaws, disclosure statement, reserve fund information and all else that is available.

Keep in mind that when buying a new condo, it is law in Alberta the developer must provide you with a complete set of condo documents and you have 10 days to review them in which you can decide not to proceed with the purchase and receive all of your deposit back at no cost.

Ask questions and make an informed decision. If you choose to hire me as your new condo realtor, I provide you with an unbiased opinion and all the facts you need and more to make the most informed decision.

When dealing with a representative of the developer, they work for the developer, not for you. They may not have as much information to give you on outside variables that could affect your unit or your true options in the Calgary new condo market.
Tip #4 – Are you satisfied?
Is the developer providing you with the level of service you deserve?

Have your dealings with them been smooth and professional?

Do they provide you with complete information about any requested topics you have asked about?

The bottom line is, if you find that your dealings with the developer hasn't been up to snuff with the standards of service acceptable to you, it probably isn't going to change anytime soon, especially after you give them your hard earned money. This is another huge red flag when considering buying with any developer in Calgary.

You deserve the best when buying a condo in Calgary, so don't settle for less. When you buy a new condo it's really important you have your own representation and expert advice to help you get the best value in the best condo project. I have helped countless new condo buyers with their purchase, here is one New Calgary Condo Buyer Testimonial I welcome you to read.
Questions about Buying a Condo in Calgary?

Contact me directly at 403.370.4180 or message me below for the best advice on your new condo search. I would love to help you get the best value and make the best decision! Here are 15 Tips for Buying a New Condo in Calgary.