The Use of Structural Steel in the New Central Library Explained
How is structural steel helping to build East Village's New Central Library? Hear it from Ian Washbrook, Structural Engineer with Entuitive Corp. engineering firm first.
"So, the role of steel in this building is a very important role. We are dealing with library loads, so books, which means that we have to deal with heavy, heavy loads. Although it's a four-storey building, the loads that are coming down on those columns, and some of those columns are structural steel, is equivalent to a 20 to 30 storey commercial tower, and structural steel is the preferred material of choice when dealing with such a large span and such heavy load.

Over the main entrance there's some very large spans that we had to get across. Structural steel is a very efficient material to span those distances. You can do it in reinforced concrete as well, and the public spaces on level two three four, when you look up you'll see reinforced concrete, but in the main entrance space its very column free. In fact, there are no columns.

When you go up to the main entrance, there is going to be 55-metre-long trusts, and a trust is essentially a spanning member – a beam – let's call it a beam but without solid steel, so it's a structural element that is the most efficient use of material so you're using the least amount of structural steel to span a large distance. Mostly you see trusses on bridges.

The main purpose of the trusses in this building is to allow a column free space in the main entrance and to also span over because the building is quite a unique shape, it kind of convergences to a point on the north side and somewhat to the south side, you have a fairly complicated geometry of the structure. You're dealing with a lot of curves and you kind of have to span over the tracks, but the architect didn't want to have columns when you walk up to the main entrance getting in the way of things. You don't want to have a forest of columns in a library.

We also have another interesting truss on the building on the north end which cantilevers out overtop of the tracks, so it will be an interesting experience when its completed. There's going to be a café, and you'll be able to sit there with a book, or your IPad, or whatever, have a coffee in hand and be able to see the trains come out right from underneath you – literally just underneath you.

I have four kids and I took them to the site a couple weeks ago and my youngest is just turning 3 and he thought it was the coolest thing that there's trains coming out of this building. Like, where are they coming from!? He has no idea where these trains are coming from. And then my youngest daughter thinks I'm physically building this building all by myself of course – I'm doing everything. Its just amazing to be able to see the stage its at right now."

- Ian Washbrook, P.Eng.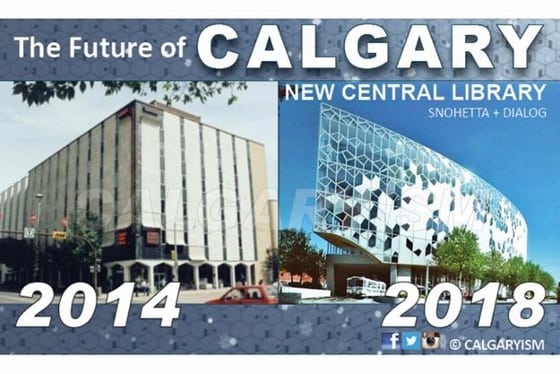 Learn More About the NCL
I Love East Village
As a born and raised Calgarian and local real estate agent, I am extremely excited to see East Village continue developing into one of our city's hottest cultural and festival destinations.

Learn more about the up and coming neighbourhood at East Village: Projects, News and Everything Else today.
Join Us
Looking for more of the best local news, events, activities and everything else to do with YYC?

Give us a like at Calgaryism on Twitter, Facebook or Instagram and stay updated via your live social media feed today. We hope to see you there!