Best Meat Shop: Meadow Creek Sausage & Meat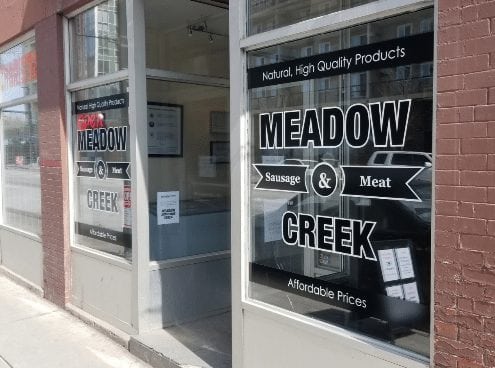 – NOW CLOSED –

A friend of mine told me about Meadow Creek Sausage & Meat Ltd. in the heart of the Kensington Business Revitalization Zone. I am very familiar with the area, so I figured it was new because I hadn't heard of it or seen it before. Being the meat lover I am, I decided to check it out ASAP. At first, I had a bit of trouble finding the shop as it's in the middle of the block and has a rather small store front. So, let me explain right away. To find this Calgary hidden gem, it's on 10th Street a few stores south of 3rd Avenue NW where the Kensington Safeway is. For those of you familiar with businesses in the area already, it's right in between WOW Chicken and Flipp'n Burger if that helps. See below:
Location
Sausages & Meatballs
Upon my first visit, I could see why it was well worth seeking out this hidden gem. The shop had signs everywhere talking about its healthy, natural, high-quality meats and how they are fresh and locally sourced with no harmful additives. I was stoked as I am all about eating healthy. After being greeted by the friendly sales person and having a quick talk about how I heard of the store, she pointed me towards the fridge with the meatballs my friend had told me about. I walked over and noticed the pre-cooked turkey sausages (3 per package) which looked yummy. I picked up a few to add to a vegetable soup I had made a few days prior. These high-quality sausages cost just $7.00 a pack and had a tinge of spicy flavour because of cooked-in spices which was a nice addition to the already succulent sausage taste. I also grabbed the large meatballs that had 8 to 9 per pack (I forget the exact number) for less than $4.00 each. YES.. LESS THAN FOUR BUCKS!!! I used these in a spaghetti dish I made for company later in the week. Everyone that tried them mentioned how delicious and high-quality they were. You know how sometimes you get those small bits of cartilage in low quality meatballs? Well, that wasn't the case with the product from this hidden gem meat shop.
Healthy Ingredients
As a gluten-sensitive person who eats organic food, the following list was impressive to say the least considering how affordable the meats are at Meadow Creek Sausage & Meat in Kensington. The following ingredients are NOT used by Meadow Creek Sausage & Meat:

No gluten
No soy
No peanuts
No added hormones
No nitrates
No sulfites
No color modifiers
No milk
No eggs
No preservatives
No celery roots

The next time you need some fresh, high-quality meats, why not walk half a block down to Meadow Creek Sausage & Meat in Kensington instead of doing so at Safeway? I swear, you'll never go back!
Calgary Hidden Gems
Meadow Creek Sausage & Meat Ltd.
Address – 328 10th Street NW, Calgary, AB Phone Number – 403-802-1620 Website – meadowcreeksausage.com
I Love Calgary
Looking for more of the best local restaurants, shops and services in Calgary? If so, we invite you to join us at Calgaryism on Facebook, Instagram and Twitter to see photos, news and updates for insight into the best there is in YYC today. We hope to see you there!