You Must Try Andaro's Pizza in Cougar Ridge Calgary!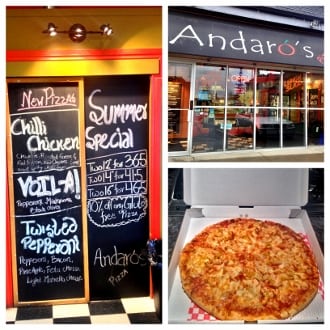 Have you tried Andaro's pizza?! If not this is one pizza parlor in Cougar Ridge Calgary you have got to try!
We recently tried their new "Tropical Heat" pizza, and man oh man was it good! My mouth is watering even now when I am thinking of how to describe this succulent pizza to you and do it the justice it deserves.
Well here's a start… nothing but AMAZING!! This unique pizza combined chicken, banana peppers and pineapples on a whole wheat thin crust and was one of the best Calgary pizza's I've had in a long time!
Andaro's offers it all when it comes to delicious pizzas; from your traditionally built pepperoni and Hawaiian to more explorative combinations such as the Island Twist and Mighty Zeus, there's a little bit of something for everything at Andaro's.
5 Pizza's You (and me) Have to Try at Andaro's…
1.      Super Special – Ham, pepperoni, Italian sausage, green peppers, onions, black olives, mushrooms and feta cheese

2.     Smokehouse Chicken – Chicken, ham, bacon, onions, BBQ sauce, mozza and cheddar cheese mix

3.     Taco Grande – Beef, jalapeno's, refried beans, onions, fresh lettuce / tomatoes, mozza and cheddar cheese mix, sour cream

4.     Tandoori Chicken – Chicken, tomatoes, red onions, green peppers, ginger, cilantro and spicy tandoori sauce

5.     Al Capone – Chicken breast, red peppers, pesto sauce, sundried tomatoes and mozza cheese
Andaro's Pizza is truly a great neighborhood eatery with over 40 different pizza combinations and all kinds of other great menu items.
Also offered by Andaro's pizza is whole wheat and gluten free menu items sure to impress even the most discerning pizza connoisseur.
If you haven't been we highly recommend that you do, oh we should also mention its walking distance from almost anywhere in Cougar Ridge Calgary!! As their website itself warns "It's addictive"!!
Even if you aren't living in Cougar Ridge and are looking for some of the best pizza around, try heading over to Andaro's Pizza located in a strip mall on the corner of Cougar Ridge Drive and Old Banff Coach Road SW. It's just that good!
Andaro's Pizza
Address – 677 Cougar Ridge Drive SW, Calgary, AB

Phone Number – 403-699-0009