Understanding Your Calgary Condo – by Cody Battershill Calgary Condo REALTOR ®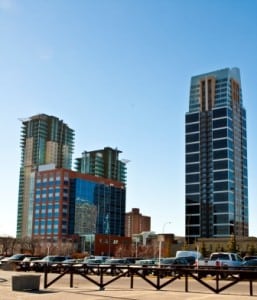 When you think about owning a condo do you really understand what you own? We all know that with a single family home we own the land and everything on it, well in a condo it is completely different. The term "Condominium" is  a system of land ownership where an individual can obtain "ownership of an area within a shared parcel of land" or the "ownership of a space stacked above ground".
So the term condominium can apply to several different types and styles of property, not just simply apartment style condominiums but also town homes, villa's, bare land condos and more.
Calgary Condo Basics
A condominium contains both condominium units and common property owned by the condo corporation. Each owner gets their piece (the "Unit") and the leftover parts are owned in common by the condominium corporation (the "common property"). The common property is usually the hallways, elevators, lobby etc and is identified in the condominium plan as the areas remaining after the individually owned "units" have been identified.
In all types of condominiums, the term "unit" means "ownership". It is very important to determine what is a part of the unit boundaries;  for example is the parking or storage included? Or does the parking and storage have a separate unit or is it leased or assigned. If something has it's own "unit" then it will have it's own land title certificate showing ownership.
The common property in a condominium is owned by the condo corporation. Each unit in the corporation owns a portion of the corporation as determined by the "unit factor". The unit factor is your share of ownership in the corporation and is usually based on size but can be determined by other means as well.
Questions about Condos in Calgary?

NEVER buy or sell a Calgary Condo without your own Calgary Condo Specialist REALTOR® to represent you. As you can see from the article above, condos are complicated and you need a real estate professional and condo expert to maximize the value in the transaction or your benefit and ensure your best interest are protected at tall times. Contact me today directly at 403-370-4180 or message me below!