Elbow Park Calgary Luxury Homes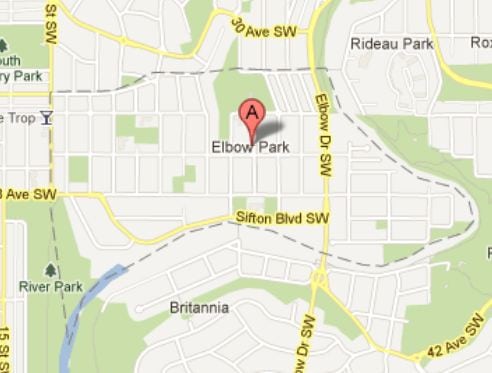 Elbow Park is one of Calgary's most exclusive luxury communities. Found less than three kilometres south from the downtown core, Elbow Park's variety of elevations and adjacency to the Elbow River attribute great views and riverside property to many of its homes.
Established in 1910, many of the homes in the area have been completely renovated inside and out to meet the needs of the home owners and also to appeal to the increasing number of home buyers in the Calgary luxury homes market.
A combination of these beautiful homes and a one of a kind inner city location makes Elbow Park one of the most highly desirable living locations for the affluent in the City of Calgary.
Family Friendly
Elbow Park is also a very family-friendly Calgary community with a majority of its population under the age of 24! It is a safe and serene area great for those looking to stay for the long term and raise a family in, just like its neighbouring communities of Mount Royal and Britannia.
Elbow Park Amenities and Services
Elbow Park has an amazing network of parks and pathways stemming from the different elevations and Elbow River that connect the community very well within itself and to its neighbouring communities.
For some of the best outdoor recreation in Calgary, walk down to the Elbow River pathway system in only a few minutes and for some of the best indoor recreation in Calgary find your way to the Talisman Centre, just a few more minutes of walking north. It doesn't get any better in terms of access to quality outdoor and indoor recreation than when living in Elbow Park!
Residents have convenient access to a wide variety of amenities and services close to the community. A few minutes driving north is the Calgary beltline area and downtown while south and east is Macleod Trail and the Blackfoot industrial area. Find whatever it is you need close to your Calgary luxury home in Elbow Park.
Elbow Park Schools
Elementary – Elbow Park Elementary School

Junior High – Rideau Park Junior High School

Senior High – Western Canada Senior High School
Elbow Park Demographics
Here are some very relevant statistics for the community of Elbow Park you might find interesting. (City of Calgary, Civic Census 2005, 2006, 2009, 2011)

Ages 24 and below – 37.6%
Ages 25 to 54 – 38.0%
Ages 55 and up – 24.4%
Average household income – $184,189 (Statistics Canada, 2006 Census)
Percentage of population with a High School Diploma or higher – 89.0%
Ratio of residents who own their property – 94.3%
Ratio of residents who rent their property – 5.2%
Elbow Park Community Boundaries Are:
Northern Border – Council Way SW, Elbow Park and 32nd Avenue SW

Eastern Border – Elbow River

Southern Border – Elbow Drive, Elbow River

Western Border – Crestview Road, 14th Street SW
Questions about Calgary Luxury Homes?

Call me today at 403-370-4180 or message me below! I have intimate knowledge about the Calgary luxury homes market and would love to offer all of it to you!I am looking forward to helping you with your real estate goals.
Learn more of luxury communities at our Calgary Luxury Homes and Communities
Search Elbow Park Calgary Homes